Pancakes are for life, and not just for one day. In Japan, they've been banging out their own kind of pancake, the okonomiyaki for centuries.  If you're not familiar with an okonomiyaki – it's a savoury pancake containing a variety of ingredients. The name is derived from the word okonomi, meaning 'what you like', and yaki meaning 'grilled'. If you're tired of maple syrup, give these beauties a whirl. Happy eating, London:
 What: Okan Special – prawn, squid, kimchi and sweetcorn (£8.95)
Why: Osaka dialect for "mother", Okan was born out of the early street food scene on Brick Lane and established a permanent location among the food delights of Brixton Village. With the opening of Masterchef winner Tim Anderson's Kyushu-inspired restaurant Nanban on Coldharbour Lane and Mommi's Peruvian-Japanese fusion on Clapham High Street, South London is looking ever tastier as a destination. Okan is charmingly intimate with a few tables inside and out. The menu is not extensive, but it has the right homely touch. Munching okonomiyaki is not a formal event. Their Okan Special of prawn, squid, kimchi and sweetcorn is great value (£8.95).
Where: Unit 39, Brixton Market, Brixton, London
What: Classic pork okonomiyaki (£9.95)
Why: Started in 1993, Abeno is the elder statesman of the scene with locations in Bloomsbury and Leicester Square. The former is better suited for romantic assignations over a hot plate and the latter rather more buzzy. They're the closest you'll find to the Osaka experience where the okonomiyaki is prepared right before your eyes. There's a wide variety of okonomiyaki choices ranging from the classic pork (£9.95) to the incredible Kansai Special of beef, chicken, bacon, pork, prawns, asparagus and just about the rest of the kitchen too (£49.95). Mostly organic, there's an extensive range of side dishes, desserts, sake and shochu. Your go-to choice for okonomiyaki in the West End.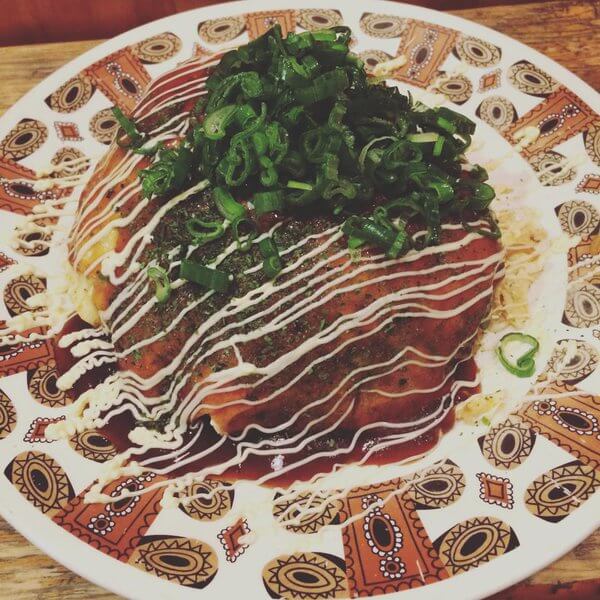 What: Pork belly okonomiyaki
Why: The only place for Hiroshima style okonomiyaki in the UK. Where Osaka mixes everything together to cook, Hiroshima does a more artful layering of ingredients on a thin crepe, together with your choice of either yakisoba or udon noodles. Prices range from £8 to £13, depending on additions such as pork belly, squid, kimchi and natto. An ever popular neighbourhood spot, it's open Thursday to Saturday nights and booking is recommended. It's also unlicensed so you're free to bring your own booze at no extra charge. Authenticity tip: Try not putting mayonnaise on your Hiroshima okonomiyaki. But if you have to, they will let you!
Where: Thursday, Friday and Saturday at Pacific Social, Hackey (6pm-10pm)
What: Yasai okonomiyaki  –  shiitake mushrooms with red cabbage and leek. Served with aonori, coriander, spring onions, wasabi mayonnaise and okonomiyaki sauce (£4.50)
Why: Really? If you find yourself at Heathrow Terminal 5, their take on okonomiyaki is available on the breakfast menu until 11.30am with both veg and meat options (£4.50/£5.95). Since Wagamama did so much groundwork for the popularity of Japanese curry, ramen, gyoza and more all over the UK, it's only right that they get on with it and roll out okonomiyaki nationally and all day long too. Yes, it's great for breakfast, but also for lunch and dinner too. And hangovers. And not just in London.
Photo Credit: lashesoflifestyle
What: Prawn Toast/Okonomiyaki (£6.30)
Why: Bone Daddies' spin-off pop-up is now in a permanent location on Old Compton Street. A wild mix of Japanese and Western influences, their yoshoku menu offers Prawn Toast Masquerading As Okonomiyaki. It's definitely tasty, but is it actually okonomiyaki? That's a discussion well worth having and much improved with a procession of other snacks and cocktails, perhaps starting with a Frozen Yuzu Margarita (£8.50). Or two.
Where: 14A Old Compton St, London W1D 4TJ
Words by Patrick Knill