Hungry? You better be. Never fear, About Time is here. Serving up our weekly delicious London food news, here's 12 things you need to eat in London this week:
1. For a Planet-Friendly Menu: OXO Tower Brasserie
What: To celebrate Earth Day, OXO Tower Brasserie is teaming up with Eco-Chef, Food Writer and Sustainability Consultant Tom Hunt, to launch a Root to Fruit menu made with local, seasonal and sustainable ingredients.
The Lowdown: The collaboration sees Tom Hunt working closely alongside OXO Tower Brasserie's Head Chef, Keir Barry, to create four planet-friendly dishes. To start, there's organic chicken wings with MSC certified cod cheeks in a lobster shell sauce or vegan caramelised salsify and shallots with thyme, forced rhubarb, cobnuts and English honey. For the main course, enjoy a vegan panisse with Hodmedod's British peas, served with asparagus, ramsons, organic spelt and olive caramel. To top it all off, guests can try a tempting lemon tart made using the rind of squeezed Sicilian lemons, with homemade marmalade and organic soya yoghurt. All the dishes use organic and ethically sourced ingredients, from agro-ecological farms and local communities.
When: Available at OXO Tower Brasserie from 22nd -29th April 2019.
Where: Oxo Tower Wharf, Barge House St, South Bank, London SE1 9PH
2. For Hemp Pizza: Lamezia Restaurant
What: London's first Hemp Pizza is now available at Lamezia Fresh Pasta & Pizza Restaurant, Holloway Road. Other exciting spring and summer additions include a turmeric pizza and a colourful array of fresh pasta plates.
The Lowdown: Holloway Road's first fresh pasta & pizza restaurant is celebrating its 10-year anniversary with the signature flair, originality and authenticity its Calabrian family owners are known for. Maria Dell'aquila, daughter of the original founders, takes over the running of the restaurant from her parents this April 2019. Describing her new menus as, 'Progressive Italian' the original Calabrian menu is now woven through with Maria's own inspired addition of nutritionally forward components such as hemp and turmeric as well as delicious vegan, gluten- and dairy-free cheese, pasta and pizza items.
Where: 165 Holloway Rd, London N7 8LX
3. For a New Vegan Restaurant: Kiss My Grass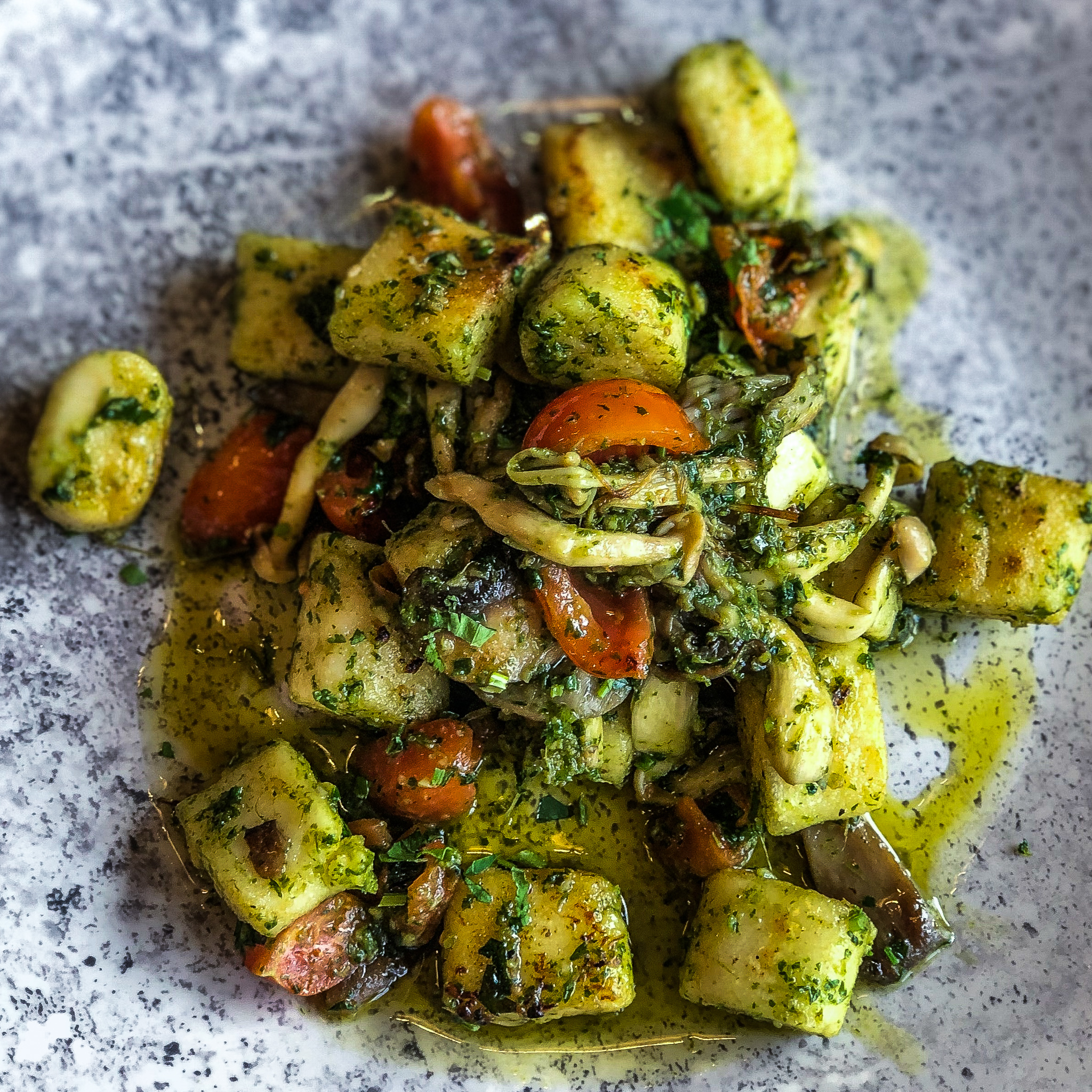 What: Looking for a new vegan joint? Kiss My Grass, located just off North End Road, doesn't believe you have to replicate traditional meaty dishes or use protein substitutes to create delicious vegan dishes. Instead, the all-day plant-based café in SW London proudly places vegetables at the centre of each dish, instead of their usual side position.
The Lowdown: Herbavores, omnivores and carnivores alike are all welcome to try one of six main dishes which include a crispy corn gnocchi with pan-fried mushrooms dubbed 'Gnocchi on heaven's door' and a sweetcorn and potato fritter with pan-friend baby gem lettuce, called 'Don't want no spuds' or knock back some prosecco for the launch of their bottomless brunch.
Where: 123 Lillie Road, SW6 7SX
4. For a Pizza Collaboration: Yard Sale Pizza
What: Matty Matheson, the tattoed mega-star chef of Vice's It's Suppertime, has created a new pizza with Yard Sale. Matty's videos have racked up over 100 million views on YouTube, with his 'Perfect Cheeseburger' video having been viewed over 8 million times.
The Lowdown: Matty was recently in London and came by to Yard Sale Pizza for an afternoon to hang out and work on ideas. Professing his love for the salt beef bagels from London's own Brick Lane Bagel, an idea was formed and after a few trials in the kitchen, a new creation was born. All Yard Sale shops will have an exclusive collaboration between Matty and Yard Sale's Nick Buckland on the menu. His pizza, The Brick Lane Bad Boy, features pastrami smoked by long-time Yard Sale collaborator's Cobble Lane, mozzarella, pickled cabbage, honey mustard dressing, dill pickles, and lashings of hot mustard.
When: From April 16th – 30th
Where: All Yard Sale locations
5. For Vegan Afternoon Tea: 108 Brasserie
What: Now, for some vegan London food news. Spring is here and local favourite, 108 Marylebone Lane, is delighted to unveil its new English Country Garden Afternoon Tea. This season also marks the launch of 108's first ever full menu of vegan Afternoon Tea treats.
The Lowdown: The quintessentially British Afternoon Tea is designed to encapsulate an idyllic English country garden in springtime and can now be enjoyed by all. 108 Pantry is now making sure its delectable delights, created by Executive Chef Russell Ford and Pastry Chef Moinal Islam, are available to everyone with their new vegan menu. The best of the season can now be enjoyed in a full Vegan Afternoon Tea menu of delicious plant-based savouries, sweets, scones and spreads.
Where: 108 Marylebone Lane, London W1U 2QE
6. For a New Menu: Enoteca Rabezzana
What: This April, Smithfield Market locals, Enoteca Rabezzana has drawn inspiration from their Italian heritage by releasing a new and improved menu.
The Lowdown: Start with the small plates and charcuterie offering; enjoy boards such as the Tagliere Misto di Salumi e Formaggi, a selection of cured meats and cheeses and a mix of bruschetta, burrata and Nduja sausage. There's a variety of starters, such as grilled octopus, beans, nduja and shallots or the slow cooked "Egg 63" served with parmigiano fondue and fresh truffle. Some further highlights include Paccheri with wild boar ragu and parmigiano reggiano crumble and the Tonnarello with lime butter, red mullet and pistachio pesto.
Where: 62-63 Long Ln, Barbican, London EC1A 9EJ
7. For a New Spring Menu: Kricket
What: Kricket, famed for its modern Indian-inspired plates and drinks, is launching a fresh spring menu celebrating the best seasonal British ingredients.
The Lowdown: Homegrown British ingredients, from rhubarb to wild garlic, are all sourced from local supplier, Clive Thornicroft, whose focus is on farming and foraging seasonal vegetables from British soil. Taking centre stage across all three sites is British free-range duck. At Soho, guests can enjoy Duck Breast, Jaggery & Blood Orange, Endive Achaar, Rhubarb and Pistachio. Over at Kricket TVC, Duck leg kathi roll with peanut chutney, cucumber pickle is being brought back by popular demand. Kricket Brixton is also keeping with the seasonal duck theme, with Grilled duck hearts, rhubarb chutney, pistachio & mint on the menu. Kricket Soho's fresh seasonal menu will also feature one new fish dish – tandoori halibut. The halibut is marinated with yogurt, mustard and a mixture of spices – and then cooked in the tandoor. Delicious.
Where: Locations here
8. For a Speedy Lunch: Savage Garden
What: Savage Garden are making lunch times delicious and quick by offering a Savagely Swift lunch for £18 per person – and they guarantee you'll be out in 45min.
The Lowdown: Enjoy two delicious, vibrant courses for just £18 per person whilst overlooking some of the best views London has to offer. Scrumptious main courses include a hearty charred rump steak with marjoram chimichurri and fries, or go veggie with slow roasted cauliflower with raisin puree. With delicious food and amazing views in under 45 minutes, make Savage Garden your new lunch pit stop.
Where: Location here
9. For a New Indian Restaurant: Lucknow 49
What: Looking for a delicious new restaurant? Why not try Lucknow 49, an Indian restaurant that opened earlier this month on Maddox St, by by DUM Biryani House Founder Dhruv Mittal.
The Lowdown: The restaurant specialises in Lucknavi cuisine, serving dishes inspired by the low and slow Awadhi cooking of the city of Lucknow in Uttar Pradesh. The menu includes a choice of kawabs (a Lucknavi kebab), a selection of fragrant biryanis and curries simmered slowly over a low heat including lamb neck korma and taar gosht, meaning 'sticky lamb' as well as regional parathas and kulchas are on hand to mop it all up.
Where: 49 Maddox St, Mayfair, London W1S 2PQ
10. For a Set Lunch Menu: Adam Handling Chelsea
What: Adam Handling Chelsea has launched a brand-new lunch menu, providing spectacular fine-dining at amazing value.
The Lowdown: Offering a lighter alternative to the restaurant's critically-praised tasting menu, the set-lunch menu gives guests the opportunity to delight in Adam's distinctive culinary style in a relaxed neighbourhood setting. At £37 for two courses, or £45 for three courses, guests at Chef Adam Handling's newest venture can expect dishes such as delicate confit salmon, artichoke, smoked aubergine, caper main course, and a chocolate stout, whipped miso, buckwheat crumb' dessert.
Where: 75 Sloane St, Chelsea, London SW1X 9SE
11. For an Earth Day Menu: Bryn Williams at Somerset House
What: In celebration of the upcoming Earth Day 2019, Bryn Williams at Somerset House has launched an 'Earth Day Season Menu' showcasing a vibrant selection of locally sourced, seasonal ingredients.
The Lowdown: All dishes focus on reducing the restaurant's carbon footprint, with dishes including Poached Newhaven plaice fillet with baby fennel and wild garlic puree, Charred new season broccoli with Essex smoked quinoa and hollandaise sauce, and a London honey parfait served with rhubarb and shortbread biscuit.
When: The menu will be available for lunch and dinner until 26th April, Monday to Fridays between 6 and 7pm, either as two courses (£18) or three (£21.50),  including a glass of house wine.
Where: Bryn Williams at Somerset House, Somerset House, Strand, London, WC2R 1LA
12. For Pizza + Life Drawing: Manifesto
What: London's definitive organic pizzeria is launching a brand-new series of monthly life drawing sessions with artist, Ru Knox, kicking off on Wednesday 24th April.
The Lowdown: The series will combine pizza, art and good wine – three of life's greatest pleasures – the perfect mid-week activity with a difference. Located on Northcote Road, Manifesto showcases the best seasonal ingredients through a laid-back neighbourhood pizzeria. On the night, guests will be welcomed with a glass of wine to get the creative juices flowing, before the evening kicks off with a series of short, dynamic poses by a professional life model. There will be a break for pizza halfway through, when guests can choose pizzas such as a butternut squash, ricotta, sausage and red onion Orange Spring and Pig & Field, with tomato, Puglian mozzarella fiordilatte, ham and mushrooms.
When: Manifesto's life drawing classes will be held on the last Wednesday of each month – 24th April, 29th May and 26th June – kicking off at 7pm for a 7.30 start. Tickets are £25, which include a pizza, materials and a large glass of wine.
Where: 148 Northcote Rd, Battersea, London SW11 6RD