Pizza – it comes in many forms; from Two for Tuesdays to a prescription from the man himself, Dr. Oetker.
If, like us, you're fed up with the takeaway staples or the frozen equivalents and are craving in some sourdough goodness, these DIY kits from pizzerias across the UK are sure to fill the Margherita-shaped hole in your life.
What: Passo DIY Pizza Kit (from £13.95)
The Lowdown: Passo's DIY pizza kits contain all the ingredients necessary to create two or four of Passo's signature pizzas: Margherita; Spiced Salami; Smoked Speck and Portobello Mushroom; and Artichoke, Salted Ricotta, Potato, Olives and Rosemary. Included in all the kits are balls of its 3-day fermented dough, made with Italian flour, Passo's fresh tomato sauce with garlic and olive oil, grated mozzarella and fresh basil, plus the individual ingredients for each pizza. The recipe is easy to follow and pizzas can be cooked multiple ways (a trusty frying pan or oven depending on how adventurous you're feeling). It's the closest you'll get to having a top-notch restaurant pizza at home.
Where: Order online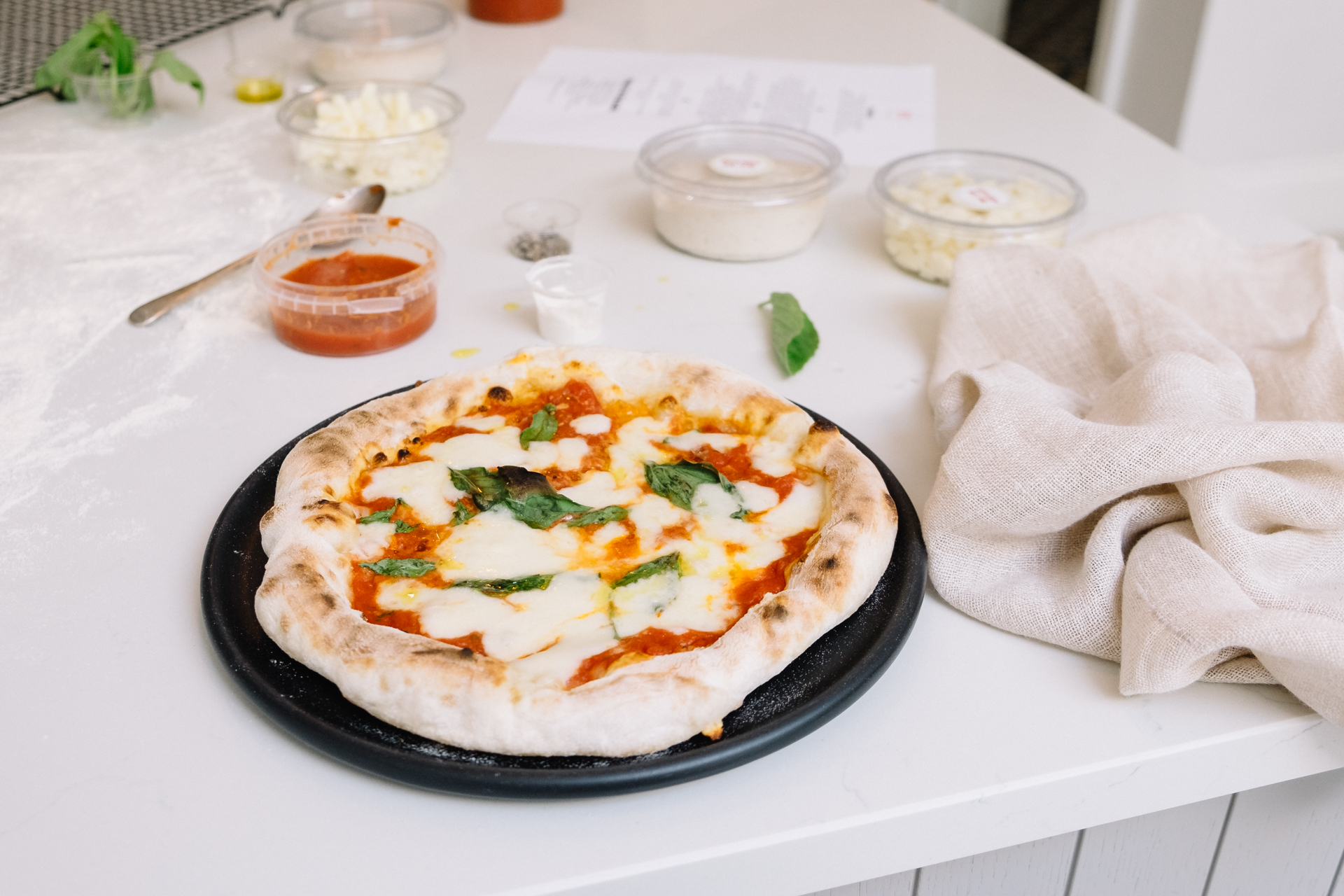 What: Dough-Re-Me classic Neapolitan pizza kits (£15/£25)
The Lowdown: Dough-Re-Me Pizza is a new business from chef patron Ben Hayes, owner of Thyme Out Food Co, an established casual eatery in West Didsbury, Manchester. Dough-Re-Me pizzas are lovingly created using only the finest ingredients sourced directly from Italy,  with no artificial preservatives or flavourings. The pack contains everything to make two or four pizzas: hand-made 48-hour naturally fermented Caputo flour pizza dough,  signature tomato sauce, made using only the finest San Marzano tomatoes, and fior di latte mozzarella. The Neapolitan pizza comes out as it should: a thin, floppy base, chewy, plenty of sauce and with a little charring.
Where: Order online 
What: Frying pan Pizza Kit (£15)
The Lowdown: Available for next day delivery, each Pizza Pilgrim DIY kit contains all the essential ingredients for a classic, no-frills Margherita pizza, including two Neapolitan pizza double fermented dough balls, Pizza Pilgrims tomato sauce, Fior di latte mozzarella, parmesan, basil and olive oil. Pizza Pilgrims has fashioned a recipe which recreates the intense heat of a pizza oven using the most basic tools Brits across the nation have access to: the humble frying pan. Pimp up your pizza with toppings available from your fridge/cupboard – meaning you can eat a pineapple pizza without the fear of judgement.
Where: Order here 
What: Pizza Meal Kit (£32)
The Lowdown: London favourite Lina Stores have knocked together a kit containing all the dough and ingredients to create 4 light and airy pizzas. Available for delivery in the capital only, the kit includes the finest ingredients including hand-rolled pizza bases, mozzarella, artichokes, greens, basil and prosciutto di parma. Go classic with fresh tomato sauce, mozzarella and fresh basil, try tomato sauce, cime di rapa, black bella di cerignola olives and Parma Ham, or a vegetarian pizza with fresh tomato sauce, artichoke, semi-dried tomatoes and fresh basil.
Where: Order here 
What: Mamma Dough Piza Kits  (£11)
The Lowdown: Mamma Dough – boasting outposts in Peckham, Brixton, Honor Oak Park  and beyond – has banged out a kit for two classic Margherita pizzas. A Neopolitan staple, the bundle comprises of the best quality ingredients sourced from local producers, including two sets of their famed sourdough dough, hunks of Buffalo mozzarella, homemade tomato sauce and basil. Even the most novice of cooks can master the art of cooking Mamma Dough's pizza – but the effort is worth it because you'll be rewarded with a structurally sound creation able to withstand the layer of thick, molten cheese.
Where: Available from Mamma Dough sites in Brixton, Honor Oak Park, Queens Road Peckham, Ladywell, Sydenham and South Norwood.