EatFirst x KraPow LDN: Insiders' Guide to Thailand in LondonBy Angelica Malin
Looking for a taste of Thailand in London? You're in luck. Our favourite delivery service, EatFirst, has recently collaborated with KraPow LDN to offer delicious Thai meals at home. Now you can enjoy London's best Thai street food team, founded by Richard Oakes and Paul Ambrose, all at the touch of a button. Order your meal from EatFirst here and enter to win return flights to Thailand here. Read on to discover where to enjoy Thai food in the capital, as told by the experts: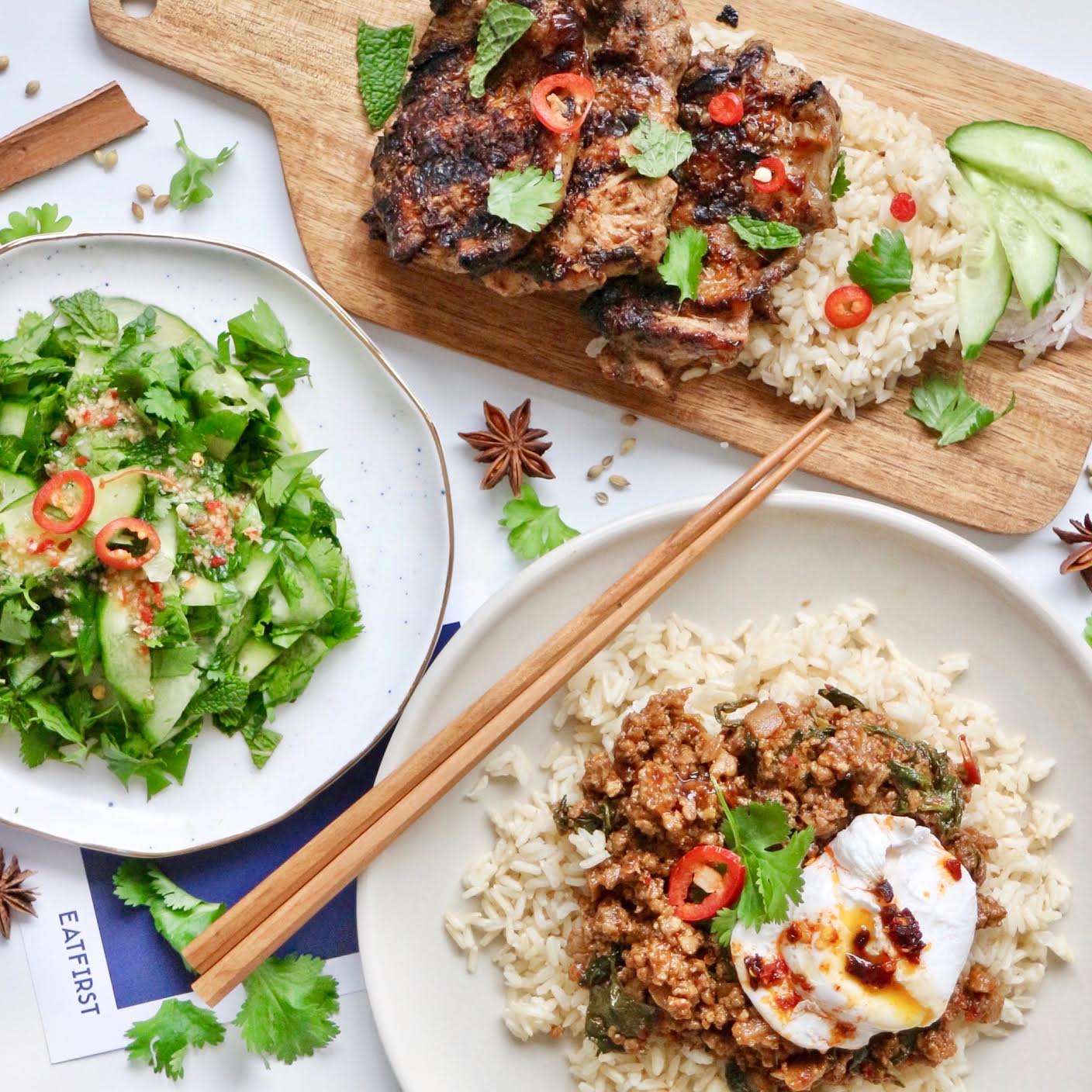 Inspired by their travels around Asia, the KraPow LDN founders developed a taste for fiery street food in Northern Thailand. Launched in 2016, KraPow LDN has been serving up Thai flavours to the people of London and the UK at Druid Street Market, Camp Bestival and beyond. What's more, you can now order their delicious food using top delivery service EatFirst here.
What's different about KraPow LDN? Well, their inspiration was the stark difference between their perception of Thai food and the true flavours they discovered. In comparison to the brightness and acidity of southern cuisine, they found a wonderful, complex earthiness to the cooking in the north. Returning to London, and finding it impossible to get the dish they fell in love with, they set out to create it on their own. We love.
For Thai Ingredients
Looking to stock up on authentic Thai ingredients? Here's the team's favourite shops in London for buying all the Thai foodie delights:
SeeWoo – Greenwich
One of the largest Oriental food retailers in London. They have tonnes of Asian ingredients that we never knew existed, as well an amazing fresh seafood section.
Kong Ming Fruit & Veg – Leytonstone
These are our Thai fruit and vegetables gurus, you can find them at New Spitalfields Market. I think they have the freshest produce and help us create the unique flavour in our dishes.
Loon Fung – Tottenham
An Asian supermarket warehouse in Tottenham which is open to the general public. It's a great place to discover incredible flavours from the far east and beyond.
Dennis Edwards Flowers – Covent Garden Market
If you're looking to impress a loved one these guys have the finest Thai orchids in London. The smells are incredible and you'll love putting your images all over Instagram.
For Thai Food:
Fancy a taste of really, really good Thai food in the capital? Here's the Thai restaurants you can't miss, according to KraPow LDN:
Som Saa – Spitalfields
Meaning Thai Fruit, Som Saa was crowd funded from a pop up under a railway arch in East London. Now proof of an incredible concept, they have set up shop in Spitalfields. Unapologetically hot with flavours wandering from north to south Thailand.
Kiln – Soho
Another Thai food trailblazer, focusing their flavours on the Northern areas. Everything is cooked over ember filled clay pots, in hand hammered woks. Delicious, simple small plates bursting with deep Thai freshness and flavours.
Smoking Goat – Soho
Similar to its sister restaurant Kiln, Smoking Goat's menu is typical of Northern Thai street food flavours. Their small, bold menu packs a punch with meats cooked over a wood fired BBQ, full of earthy flavours then left for you to cover in zesty Asian leaves and spices.
Begging Bowl – Peckham
Thai Street Food restaurant bringing a bowl of Bangkok to Peckham, get stuck into sharing plates with a perfectly balanced sweet and spicy menu.
Singburi – Leytonstone
This is a friendly no frills neighbourhood Thai cafe, it's delicious menu features all the classics and incredible lesser known regional dishes. It's the perfect place to brighten up a rainy day in London.
Farang – Highbury & Islington
Meaning foreigner, in Thai. Farang is a restaurant run by ex Smoking Goat Chef, Sebby Holmes. Here, they laugh in the face of the Phad Thai, so expect perfectly balanced authentic dishes that pack a serious amount of heat. The coconut braised beef cheek is something that should not be missed.
For Thai Cooking Inspiration: 
And, of course, if you're in a need of inspiration for your own cooking adventures, you need to check out the following:
BUY – David Thompson's cookbook
Godfather of Asian cooking. He ran the first Thai restaurant to receive a Michelin star, moved to Bangkok and returned to cook at Som Saa during London Food Month. His book has every Asian recipe you would ever need.
BLOG – The Roaming Cook
Gary Butler, a painter and decorator from London who also fell in love with Thailand and the food. Now lives in Bangkok and travels around Thailand developing new recipes for his blog.
BLOG  – Mark Wiens  – eatingthaifood.com
Since 2009, Mark has been based in Bangkok, Thailand, researching (that means eating a lot) as much food as he can and taking photos and blogging about Thai food.
FOLLOW – Onestep4ward.com
A great friend of ours who has made a living being a travel blogger, we all travelled through Asia together. If it wasn't for Johnny, the KraPow LDN dream may never have been born.
For Thai Culture:
Still not had enough? Here's where to get a taste of Thai culture in London:
Festival – Song Kran – 13th – 15th Apri
Founder and head chef of Farang, hosts an annual Thai pop-up dining experience on The Battersea Barge. Check Farang website for details.
Thai Temples – Wat Buddhapadipa – Wimbledon
There is a huge Thai Buddhist temple in Wimbledon, which was the first Thai temple to be built in the UK. It is home to monks and nuns but welcomes visitors of any faith to view the grounds and experience the temple.
Annual Games – The Samaggi Games – 25th February
An annual event where several thousand Thai students and expats play sports such as football, basketball, tennis, badminton, table tennis, squash, chair ball, and traditional Thai games such as Thai chess.
Sponsored post in assocation with EatFirst. Minimum orders £12.50 in London £40 Nationwide. For more information about EatFirst, and to enter the competition, see here.