Are you a sushi lover, always dreaming of spicy tuna rolls? Then you're going to love TAKA, a new high-end Japanese restaurant in Mayfair. It's time to get your sushi fix – here's everything you need to know about the new opening:
TAKA, tucked away in quiet, classy Shepherd's Market in Mayfair, is a little hidden gem. The restaurant is about as intimate as it gets, with a handful of tables offering a private, classic Japanese dining experience. This is the first TAKA in the UK – run by brother and sister duo Andrey and Anastasia Datsenko, they've had a huge success with TAKA in Japan and are now bringing heir high-end Japanese restaurant to London.
The menu is pretty extensive for such a petite restaurant; there's a big selection of Japanese signature dishes from tataki, tempura and salads to sashimi platters, inside out rolls and yakitori, as well great drinks such as Japanese-inspired cocktails, whiskies and sake.
The menu at TAKA might overwhelm you slightly but, actually, everything is totally delicious, so don't be worried about ordering some of the more unusual dishes. It's a sharing concept, so fill your table with dishes to share. We start with a classic miso soup with fresh tofu, spring onion and wakame seaweed which is delicious start to any Japanese meal. For starter plates, we sample the salmon tataki – slices of seared salmon topped with spring onion, kizami wasabi and ponzu sauce – which is divine. You can really taste the freshness of the salmon in their cuisine, the fish is so buttery and soft, with the tanginess of the ponzu sauce a perfect companion.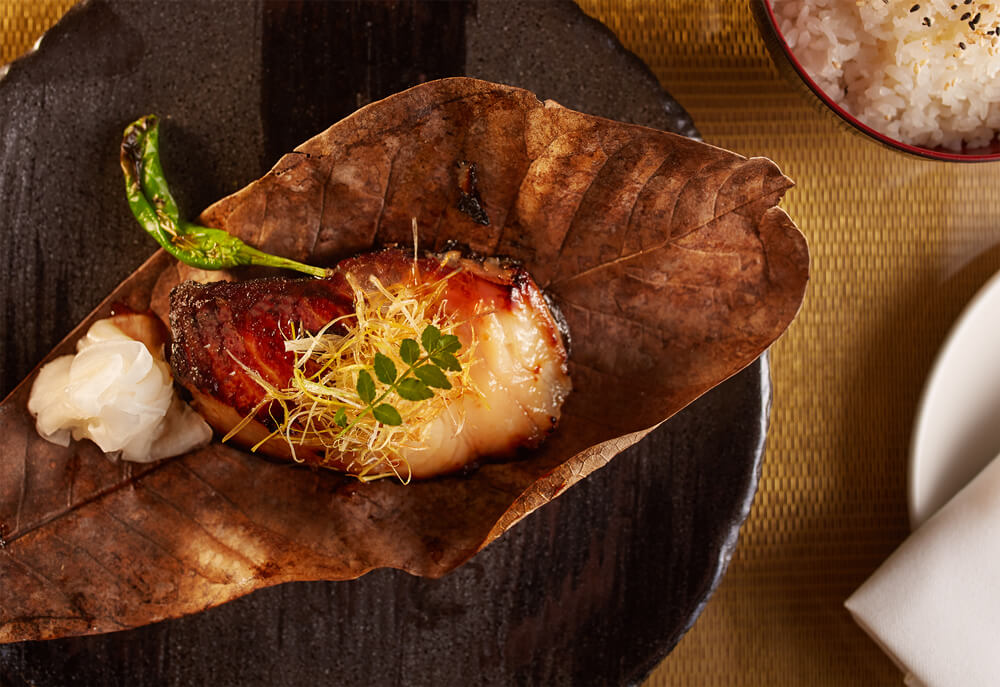 Moving onto sushi rolls, we love the classic sake maki with sushi rice and salmon, for something refreshing and simple, and the salmon and avocado roll with garlic mayo for a twist on a classic. Their spicy tuna roll is the star of the show, however, with tuna, spicy mayo, cucumber, spring onion and tobikko – it's just the right amount of spicy, with a nice kick to it. For a more substantial main course, the spicy Chilean seabass is out of this world. Expect a grilled marinated Chilean seabass in a spicy sauce, served in houba leaf with shishito pepper, leek, lime wedge and pickles. The fish is the best quality, and the whole dish is so full of flavour, with a mixture of heat, sweetness and the tang of lime. The food is just perfect.
We loved the Japanese-inspired cocktails at TAKA; their Lychee Martini is perfect, not too sweet, made with fresh lychees and lychee liqueur. For a more hard-hitting cocktail, the Japanese boulevardier with Nikka Blended whisky, Antica Formula, Campari and lavender syrup is a real winner. If you're looking for a non-alcoholic cocktail, they've got an impressive range – the cucumber and elderflower lemonade is my personal favourite.
We're into it. TAKA isn't a cheap option, sure, but their sushi is up there with some of the best in London. The quality of the ingredients speaks for itself – the fish is totally delicious, the sushi rolls well conceived and presented, the main dishes so fresh and tasty. If you're looking for a new high-end spot in London, we can't recommend TAKA London more. Get the spicy tuna rolls and a lychee martini, and you'll be one happy camper indeed.