Paris' culinary scene is thriving. Street food has started to dominate the city, and while there's still a wealth of traditional French bistros, Paris is also home to a mixture of modern eateries. Eating out in Paris has never been better. It may be known as the city of lights, but for us – it's the city of food.
Rebooted, revamped and reopened, Alcazar located in the Left Bank Gallery Quarter is a mere few steps from the iconic Notre Dame. Following a three month closure, which saw the restaurant's menu and interior overhauled – the restaurant is back open for business, and let us tell you this; it's in a league of its own.
If you're already going to Paris, or considering crossing the pond – make time for a lesuirely lunch or a decadent dinner at Alcazar. Enough with the small talk, here's what you need to know:
Alcazar: The Vibe
Alcazar is a hangout which attracts the trendy Parisian crowd. The tailored chino, vogue smoking pose who enjoy nothing more than sinking a few bottles of high-end vino at lunch and feasting on food. There's a real warmth about the place that hasn't been created by music throbbing through the surround sound – it's organic, natural and, well; effortless.
Walk into the restaurant, and it hard to tell if you've been invited into someone's dining room. It's intimate – there's cozy booths, hanging globe lights are the centre piece, and there's a mirage of tropical plants. Vogue Architect, Laura Gonzalez has created something rather special. The space is large, but the vibe is intimate. There's scattered cushions, thick cut marble tables and wooden features. Alcazar has already created excitement – it's uber cool, hip – but most of all, it's sleek.
The first floor is home to Le Balcon,  a place where problems and inhibitions are left at the door. Le Balcon draws in the early evening crowd for cocktails and other liquid concoctions. When the sun sets, Le Balcon comes alive. The clientele are as clean looking as the interiors – we can imagine Sophia Loren-esque ladies come to bask in the live music and chic surroundings.
The restaurant is surrounded by more than 100 galleries, and pays homage to its location. The focal points have to be the photographs that litter the walls. Head turning pictures of Grace Kelly and Frank Sinatra, along with Audrey hepburn, Liza Menille and Elizabeth Taylor all sit proudly, with the pictures changing every three months.
Alcazar: The Food
Every good meal in France starts with one thing that makes us weak at the knees. Bread. The bread here is served warmed, it's crusty and tastes even better when it's lathered in the rich, salty butter. There's one thing we'll always love about France, and that's its butter.
For a French Restaurant, Alcarzar is surprisingly, very veggie friendly. Meat free hunnies out there, you need to sink your teeth into the beetroot, honey and goat's cheese starter. It's almost too good to eat, almost. The heafty chunks of goat's cheese have been drizzled in a sweet, sticky honey glaze. The hazlenuts add a delicate crunch, with the slices of beetroot earthy and delicious.
When in France eat tartare, with the beauty at Alcazar a triumph of flavours. The combination of lozère milk fed veal and caviar osciètre is traffic halteringly good. And the dash of sour cream adds a much needed balance to the dish.
The new menu sees the introduction of sharing style mains. If your pal isn't game for the veal chop, ditch them immediately and find other friends. Seriously, this dish can't be overlooked. The hugo desnoyer is a large cut of beautifully cooked meat. Flavoursome, yet not overly seasoned. The veal is juicy and tender.
There's meat here that could feed a family of five, twice over. It's hefty, but its the kind of dish that you can't help but eat. Simply served with truffle. The nuttiness from the truffle and the intense meaty veal flavours are, quite simply, a taste sensation. Let's not forget about the potato puree with fresh black truffle. A pot of freshly made mash with finely grated truffle is one of creamiest purees we have ever tried. It's silky smooth and just, glorious. Can you ever have too much truffle? Never.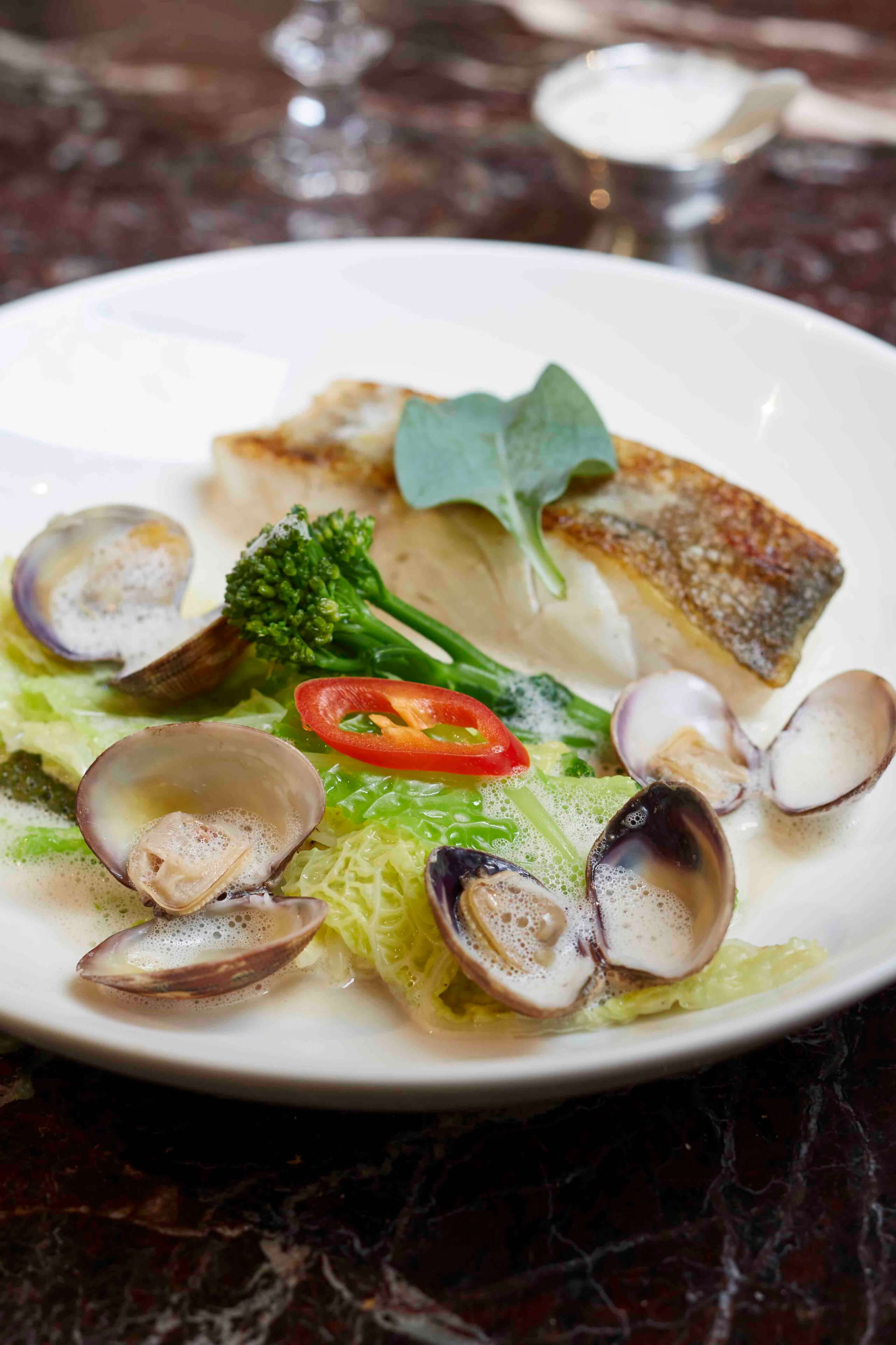 If you prefer your food out of the water and a dish to yourself, the sole meaner from the Atlantic is served whole (but you can ask them to de-bone if you wish). This is simplicity as its best. The sole is cooked in a garlic butter sauce and that's it. ingenious.
Giving a nod to the French classic, the vanilla millefuille tastes exactly as it should – light, flakey pastry with layer upon layer of vanilla cream. The pastry to cream ratio is spot on and the vanilla cream doesn't contain the essence variety.
The Verdict: Alcazar
If you haven't already noticed, we're big fans of Alcazar. Mesmerised by the decor, it had us immediately ordering the Laura Ashley Catalogue, and the food bowled us over from the first bite. This isn't traditional French fare, it's a wonderful blend of modern flavours and seasonal cooking. Alcazar is back and it's here to stay.
Eurostar operates up to 21 daily services from London St Pancras International to Paris Gare Du Nord with one-way fares starting from £29 (based on a return journey). Fastest London-Paris journey time is 2hr 15 minutes. Tickets are available here or call: 03432 186 186.