About Time: You Discovered the Vital Ingredient Breakfast RangeBy Angelica Malin
Calling all healthy food lovers! Know your chia seeds from your linseeds? Your proats from your zoats? We say: it's about time you tried the Vital Ingredient breakfast range. This week, we're so excited to be partnering with Vital Ingredient for #VitalHealthWeek – expect delicious food features, a special competition and lots of ideas for getting healthy in the capital. You can get involved by following them on Twitter here, Facebook here and Instagram here for all the latest news. Today, discover all about their new healthy breakfast range: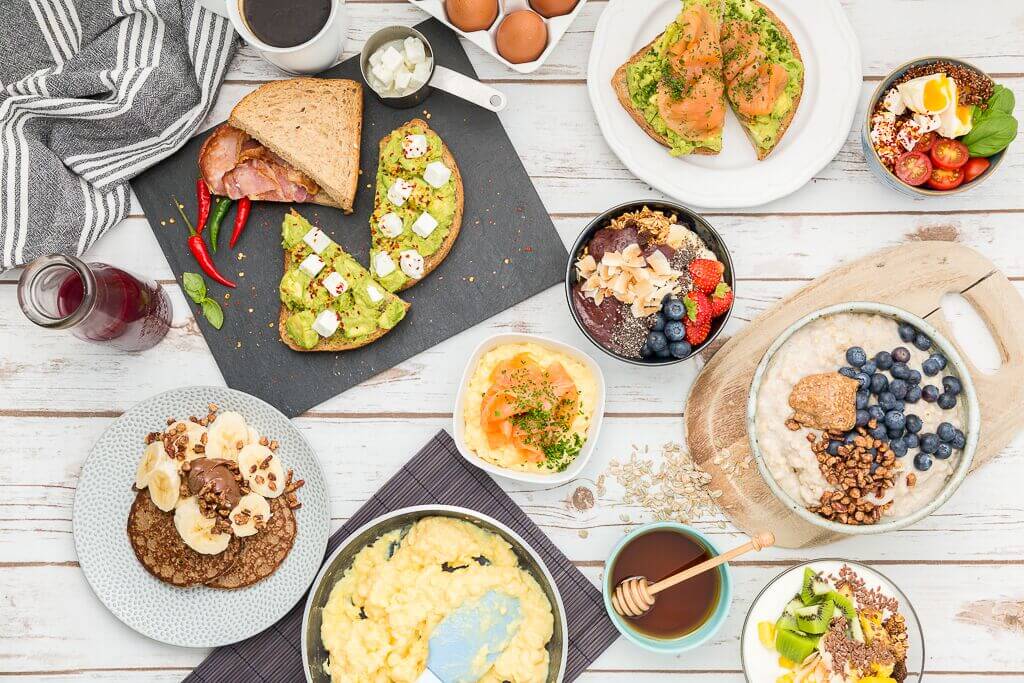 For protein pancakes and create-your- own porridge, their new breakfast range launched a few months ago and it's going down a total storm. It's all about the build-your-own vibe; their porridge is available with a whole host of ingredients and different milk options, eggs are scrambled or poached to order, and covered with your choice of toppings, and our delicious pancakes are just banana, almond milk, cinnamon, oats, lemon and a touch of salt. We love.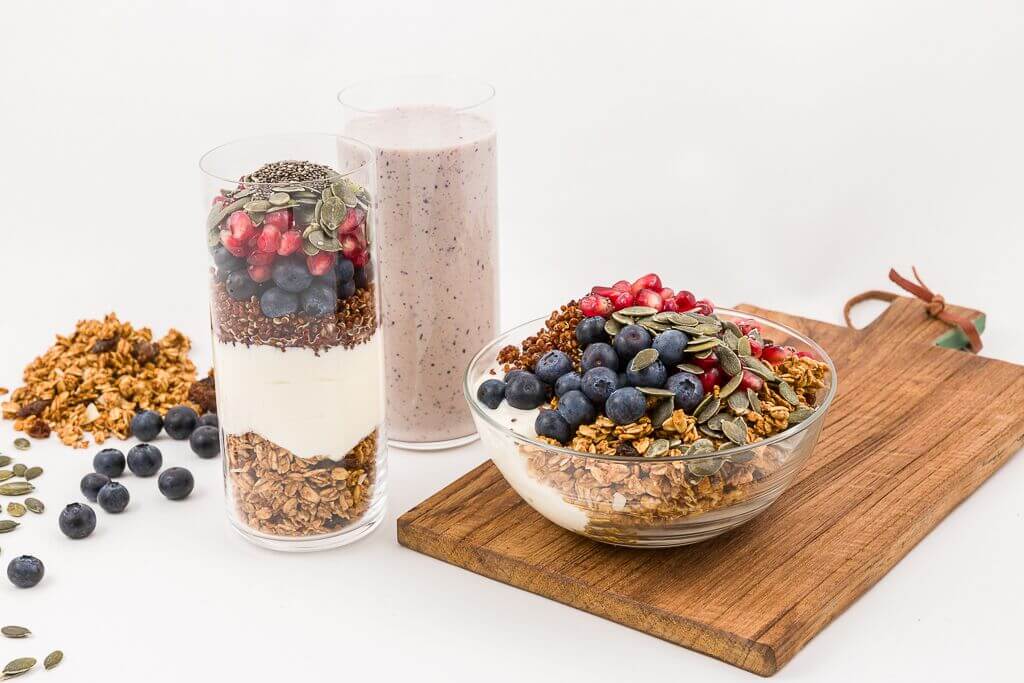 It's all about the flavour here; Vital's new breakfast range has been specifically developed with taste, choice and ease in mind for the best start to the day. Their banging breakfast menu features exotic superfoods including chia seeds, goji berries, quinoa and pomegranate as well as common healthy ingredients such as oats, eggs and avocados to boost your morning. We had the tough challenge of making our way through the new breakfast menu to hand-pick some absolute crackers:
What: 3 Grain Protein Porridge with mango, cranberries, raisins, pumpkin seeds and honey.
Perfect For: Dairy-free eaters and a post-spin boost.
The Lowdown: Intolerant? Don't even worry about it. Even if you're veggie, vegan, gluten or dairy free, there's something for you. This delicious porridge, for example, is available with almond milk instead of cows, for a lovely, creamy texture without regular milk. We love the combination of exotic mango, sweet cranberries and honey for a bright, brilliant start to the morning. If you're looking for something fresh, we also love the blueberries, almond milk, caramelised pecans and maple syrup topping on their beautiful porridge oats.
What: Smoked Salmon and Avocado Poached Egg Box – smoked salmon, chunky avocado and fresh herbs.
Perfect For: Loading up on all the healthy fats – great for giving your skin, hair and nails a treat.
The Lowdown: We love Vital's poached egg boxes when you're looking for something savoury and filling on the go. There's loads to choose from, including the High Protein Poached Egg with red quinoa, spinach, chilli flakes, tomato and fresh herbs and the delicious Fire Up Poached Egg with hot and spicy beans, chorizo, chilli and fresh herbs. They've also got some fantastic scrambled eggs pots, such as the Green Eggs Scrambled Egg with avocado, feta and chilli flakes, if you're more of a scrambled than a poached kind of person.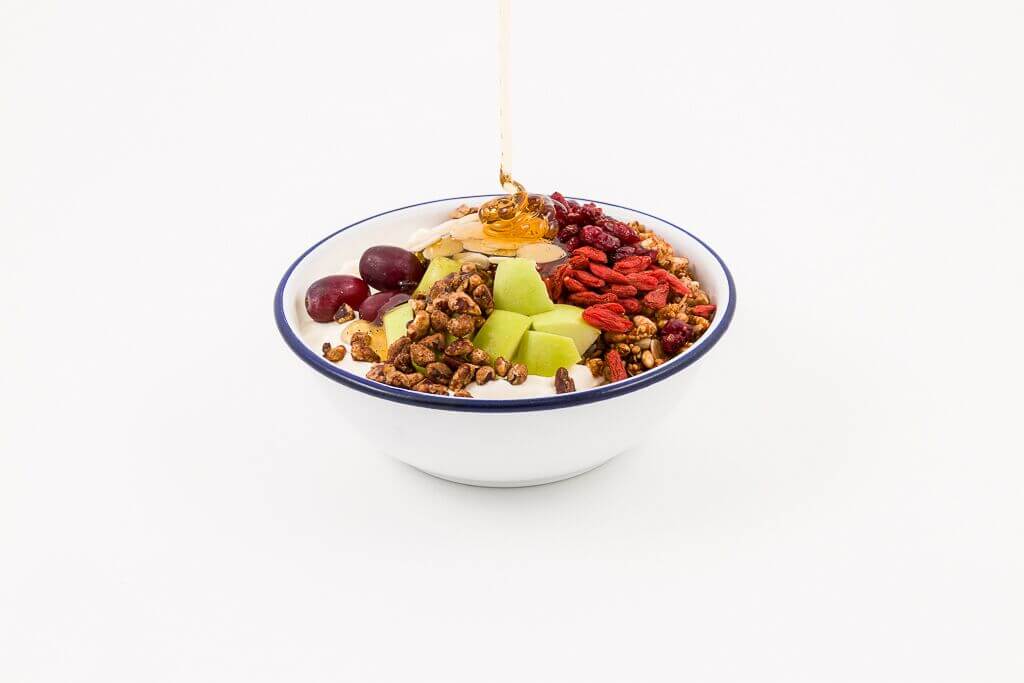 What: Organic vegan crunch with low fat yogurt, red grapes, apple, dried cranberries, goji berries, pecans, almonds and honey.
Perfect For: Vegans who need a protein boost, with the added benefit of superfood goji berries, protein-packed almonds and gut-friendly yogurt.
The Lowdown: We love Vital's build-your-own breakfast bowls; with over 30 different ingredients, you can eat breakfast your way. Their breakfast bowls are fantastic – choose your base from a range of grains and granolas, and add your toppings from a choice of fresh fruits, nuts and seeds and finish off with a selection of yogurts and milk. The Purify is a vegan blend of crunch cereal, yogurt, grapes and other fruity delights – perfect for a light, healthy start to the day. For a protein-packed start, try the High Protein breakfast bowl, with granola, Greek-style yogurt, banana, blueberry, pomegranate seeds, red quinoa, chia seeds and pumpkin seeds – it's totally delicious.
What: Protein Pancakes with a choice of yogurt (including almond, soya, coconut and Greek yogurt) with blueberries, strawberries and honey.
Perfect For: A protein hit that happens to taste totally delicious, too. Win win.
The Lowdown: We can't get enough of pancakes on the weekend, but who says you can't eat pancakes every day? With these healthy, high-protein pancakes at Vital, you totally can. Select the protein pancakes and choose your own toppings, including range of dairy-free yogurt, and delicious extras like Nutella, banana or low fat yogurt, apple and cinnamon and caramelised pecans. Pancake heaven.
What: Multi Grain Bloomer with peanut butter and jam.
Perfect For: High-carb dieters and those who just need to a nostalgic hit.
The Lowdown: If you love avocado, you must try the classic toast with a thick layer of smashed avocado and get pop on some feta for added healthy fats. If indulgent, sweet breakfasts are more your thing, you can't help but fall in love with a thick slather of peanut butter on toast with strawberry jam. If being a big kid is wrong, we don't want to be right.
Don't know Vital? Well, Vital Ingredient is the go-to venue on the high street for healthy, good quality food that you can create from start to finish. The are 19 stores currently with 2 new ones launching in 2017, across the City, Soho, Holborn and the West End. You can see all locations here.
Sponsored post in assocation with Vital Ingredient for #VitalHealthWeek – follow them on Twitter here, Facebook here and Instagram here.