Highbury is home to some of the best restaurants in London; near the station you're only minutes away from fine pasta at Trullo, meat madness at Black Axe Mangal and up the road to comforting laksa at Sambal Shiok.
Joining the hospitality heavyweights is new opening The Nook, a day-to-night wine bar specialising in sustainable modern European dishes with a Turkish twist. The Nook sources quality produce from across the British Isles and Mediterranean, showcasing the best independent producers of food and drink. With over ten years of experience in the restaurant industry between them, husband and wife duo Angus and Lale Oztek-Pook set about creating a local wine bar and restaurant with convivial flair.
The Nook Deli & Wine Bar: Eat and Drink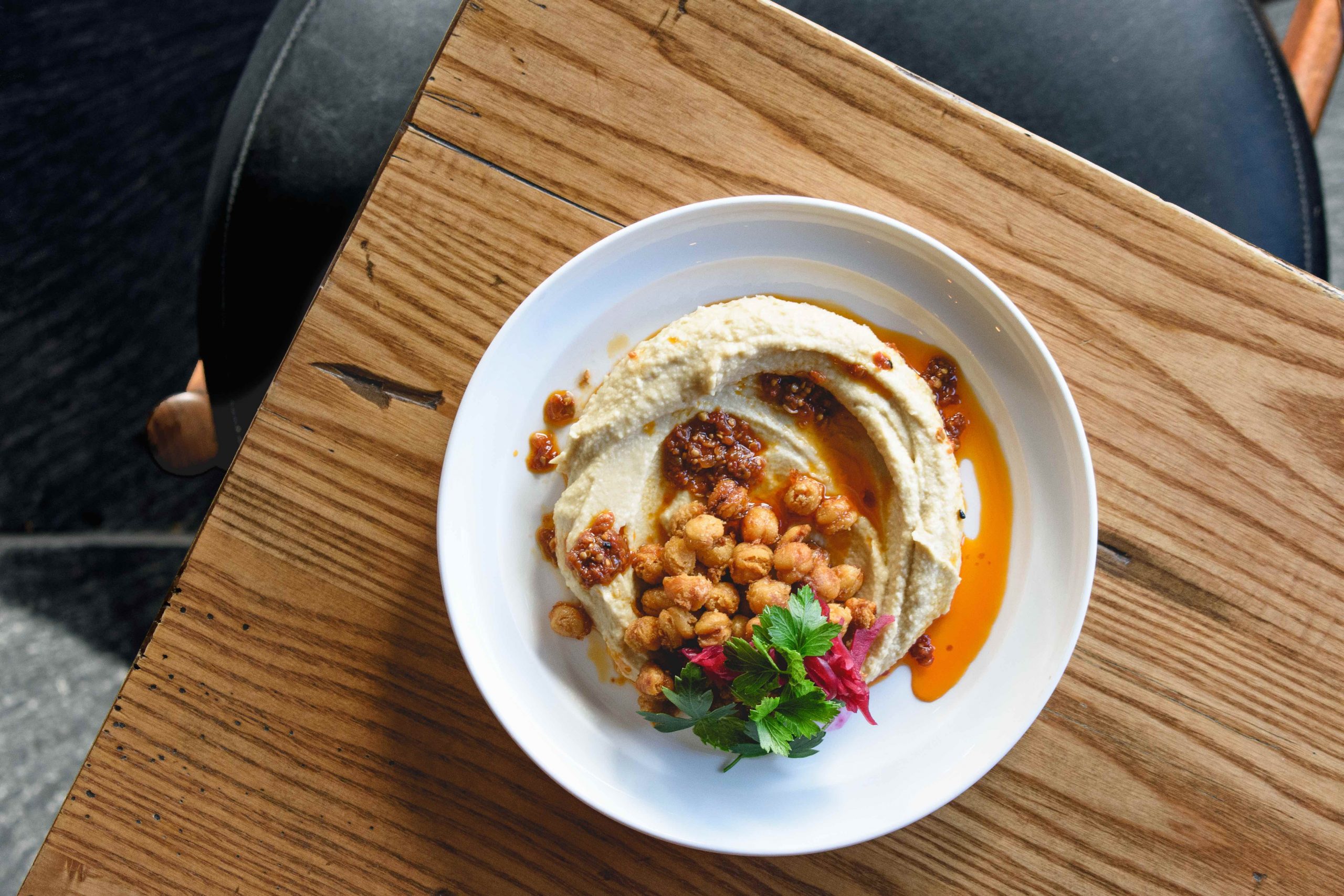 The Nook's menus are refreshed regularly, with much of it dependent on their rotating wine list – 'anything we enjoy with wine' is their ethos, allowing for a creative, eclectic and fluid menu.
Lale's smaller sharer dishes include her punchy twist on hummus, with pickled Naga chilli oil, fresh herbs with fried crispy chickpeas; a beautifully delicate dish of pourlade clams, wild garlic and herbs, beurre blanc and courgettes; and a crayfish, brown crab mayo, caper, toasted brioche – the perfect accompaniment to an afternoon of relaxed wine tasting. The menu also features a selection of larger dishes which also change regularly, beginning with the Gochujang beef short rib, mashed sweet potatoes and Coriander, the short-rib is slow-cooked for over 8 hours with the savoury, spicy, slightly sweet Korean paste, made from red chillies and fermented soy beans and salt.
Veal schnitzel, English mustard aioli, pickled apple and celery is a beautifully constructed dish, conjuring homely nostalgia with each mouthful. Seasonal vegetables are also celebrated, with Lale representing the lesser-known part of Turkish cuisine with vegetarian meze and salads. Dishes like the Shredded Root Tarator – a yogurt meze made with garlic, chopped walnuts and earthy, crunchy roots like kohlrabi and celeriac, and a smoked aubergine salad.
The opening wine list champions London urban winery Renegade, based in Bethnal Green as well as showcasing a healthy mix from across Georgia, Armenia, Italy, France, Austria and Spain, working with Les Caves and Otros Vinos for the main body of the list. The well procured, affordable pouring selection includes eight of each white, red and a smaller amount of pink and oranges, which rotate to be kept fresh and interesting. Throughout the wine list, there is a focus on sustainable, organic, biodynamic and minimal intervention wines.
The Nook, 220 St Paul's Road, N1 2LL