Looking for the best vegan food in London? You're in luck. Taking part in Veganuary, we realised something recently. Being vegan doesn't mean you have to eat chia seeds, salads or protein smoothies all day long. Sometimes you eat healthy, sometimes you crave all the greasy, delicious hangover food. And hey, that's OK. Both versions mean you are helping the environment and doing your bit, and the planet thanks you. Plant-powered friends, next time you're hungover AF and need some vegan hangover food, we've got you covered:
Order: The Franco Manca No.1 (£4.95) 
The Lowdown: Behold a pizza for less than a fiver – and it's banging too. When the hunger pangs are rumbling and the hangover is raging – you need some hot, chewy dough loving in your life. Franco Manca may have only one vegan pizza on the menu, but it's a good'un. Some of the best vegan food in London, in fact. Their signature slow-rise sourdough crust is topped with tomato, nubs of garlic and oregano. You can also jazz up the pizza with a range of extra vegan-friendly toppings which change daily (just keep your peepers peeled on the blackboard). For a good, solid, cheap vegan pizza – you really can't go wrong.
Where: Locations here
Order: 'Chickin' and waffles
The Lowdown: For vegan junk food at its best (and filthiest), The Full Nelson is a mecca of tasty treats. And by tasty we mean juicy fried 'chicken' burgers, chips covered in a mountain of pulled 'pork' with lashings of coleslaw and pickles, and deep fried Oreos. Surely some of the best vegan food in London? On Sundays, their brunch menu is what your hangover needs; vegan fry ups, fried 'chicken' and waffles, and stacks of pancakes. Wise folks say the best way to rid a hangover is by eating the pain away, and we'd have to agree.
Where: 47 Deptford Broadway, London SE8 4PH
Order: Beer battered deep-fried vegan cheese
The Lowdown: Club Mexicana is on fire at the moment; catch them at KERB Camden, Street Feast's Dinerama – and the team are also manning the kitchen at Homerton boozer, The Spread Eagle. Serving up some of the best vegan food in London; their Mexican fare has gone down a storm with the vegan and non-vegan community, and their menu features creative street food bites packed full of flavour. The Baja tofish tacos are majestic: look like the real thing, and taste like the real deal. When it comes to deep-fried heaven, order Club Mexicana's take on mozzarella sticks. Molten, sexy, vegan cheese encased in crispy beer batter. Sublime.
Where: Dinerama: 19 Great Eastern St, London EC2A 3EJ
Photo Credit: @polkadot.eye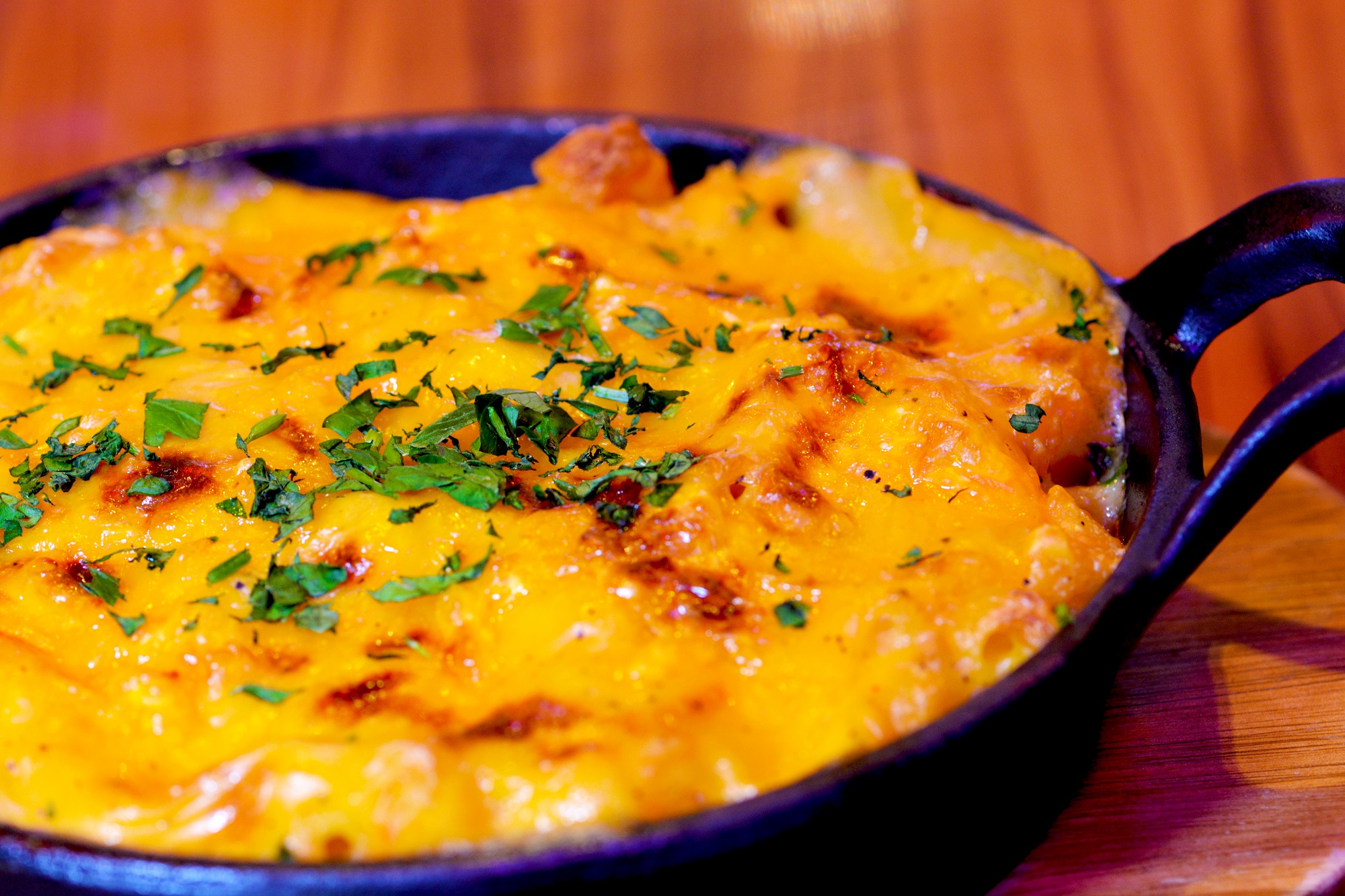 Order: Vegan mac n' cheese (£7.95)
The Lowdown: You just can't beat a bowl of mac n' cheese – the rich, warm, comforting treat reminds us of happy days, slobbing on the sofa and a hug in a bowl. The mac n' cheese creation at The Diner may be vegan, but it doesn't scrimp on taste, or cheese. The Diner's vegan menu goes above and beyond your standard bean patty – there's everything from BBQ jackfruit burgers to vegan burritos and coconut ripple vegan milkshakes. Roll in with a hangover, roll out feeling on top of the world.
Where: The vegan menu is available at The Strand, Dalston and Islington Branches
Order: Vegan Döner (£7.65)
The Lowdown: What the Pitta has been spawning like rabbits across London, offering some of the tastiest vegan food in London. And for good reason. Where else can you get your mitts on a warmed tortilla crammed full of spiced soy chunks, shredded salad, hummus, homemade tzatziki and chilli sauce. Since setting up at The Pump back in 2016, word about What The Pitta travelled like hot non-meat products, and the gang now have a stand at Boxpark Shoreditch and Croydon.
Where: 2 -10 Bethnal Green Rd, London E1 6GY
Order: Crispy fried Jackin' wings
The Lowdown: The team at Biff's Jack Shack are wizards – because what they're knocking up is pure magic. If you think vegan food is dull, you need to get your chops round their vegan junk food: it's knock your socks off, filthy. They're dishing up some of the best vegan food in London, no doubt about that. Jackfruit is doing the rounds on many vegan menus now – and their jackfruit wings, coated in a sugar cane spear, served Bang Bang style with cinnamon sweet chilli, miso mayo, nuts, coriander and crispy onions – is a flavour explosion. We don't have the word count to mention all their menu, but the burgers are killer too.
Where: Check their website to find out where they're hitting up next
Order: Vegan English Breakfast (£8.70)
The Lowdown: This is what a hangover is crying out for; lashing of beans, hash brown, mushrooms, toms, bread.. we could go on. A vegan breakfast needs to have qualities of its own; not just a sad replacement of the meat extravaganza, with some token wilted spinach and a limp hash brown. Oh no, it needs to have sass. If you want bang for your buck, potato for your pound, then get stuck into the vegan breakfast at Polo Bar. And as it's open 24 hours a day – you can enjoy your full English whatever the time (hello, brinner).
Where: 176 Bishopsgate, London EC2M 4NQ
Order: Soya steak with freedom fries, sauerkraut and melted cheese (£6.50)
The Lowdown: Vx have been flogging their vegan wares since 2010, and they've earned themselves a cult following thanks to their outrageously good vegan grub. Nothing will satisfy your hangover needs more than the steak frites – a plentiful portion of chips doused in melted cheese, soya steak and sauerkraut. And the bbq seating ribs lovingly covered in sticky BBQ marinade hits the junk food spot every. single. time.
Where:  73 Caledonian Rd, Kings Cross, London N1 9BT
Order: Temple Spicy Burger (£6)
The Lowdown: Street food stalwarts, Temple of Seitan are behind Temple of Hackney, London's first vegan 'chicken' shop (they're also opening a new gaff in Camden very soon). The team are the real meat-free heroes; providing hungry punters some of the most obscenely delicious vegan food in London. Take a bite of their crispy, fried seitan doused in cheese, coleslaw, jalapeños, with hot sauce and chipotle mayo nestled in a fluffy bap, and tell us that it doesn't taste good. This is a mecca for decent vegan food – and we're lapping it up.
Where: 10 Morning Lane, London E9 6NA
Order: 'Stake' and ale pie served with roast potatoes, veg, Yorkshire pudding, cauliflower cheez, and redline gravy (£11)
The Lowdown: Remember the times when you'd tear up the town on a Saturday night and come Sunday you'd be healed by an almighty roast. Just because you're vegan doesn't mean you should miss out on a British classic. Nothing soothes a hangover like a plate of veggies, lashings of gravy and a pillowy Yorkshire pudding. City of Seitan are behind the vegan roasts at The Amersham Arms – and it's everything you could want from a roast. There's pies, Wellingtons, and good times.
Where: 388 New Cross Rd, London SE14 6TY