The Good Egg are onto a very good thing: they've teamed up with bagel giants from across the Atlantic to host a month-long bagel bash at their Soho eatery.
Picture this: some of the US and UK's biggest names in the restaurant game have joined forces to collaborate with The Good Egg on a series of bagels, with each creation available for one Monday only over the next coming weeks. And what do you pair with bagels? Beer, obvs.
The Good Egg: What to Expect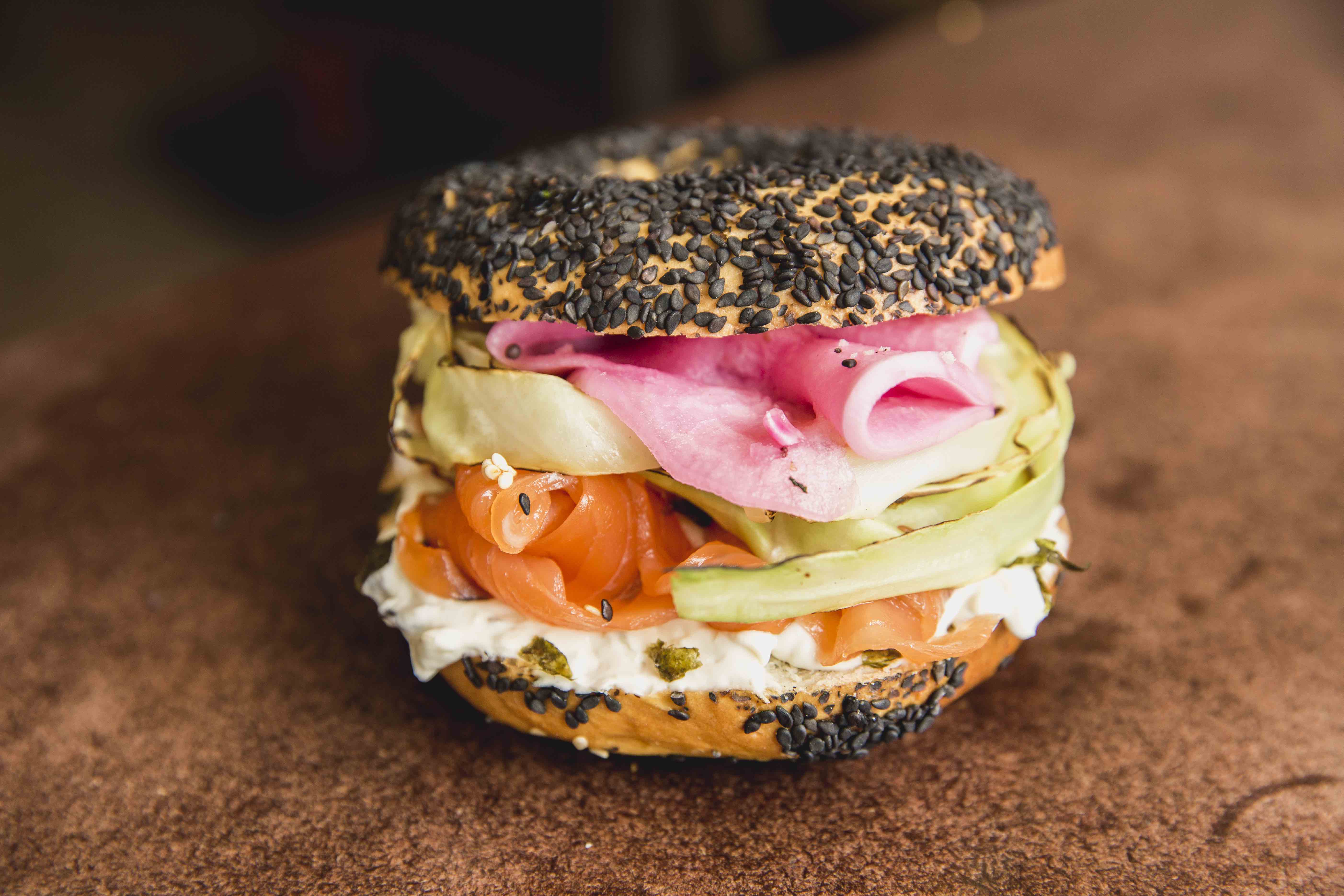 You may have visited the Big Apple, followed everyone's instructions to visit Russ and Daughters (without doubt thee most famous bagel institution in the city), tried their lox bagel (it's the best one), and realised that it's the best damn salmon bagel in all of the land. Well, to save you on a pricy airfare – Russ and Daughters have brought over their secret cream cheese along with high-grade salmon, and chewy yet soft bagels to set up shop in The Good Egg. Well, well worth the slog into Central London.
The new bagel collaborations are only available on Monday nights and for £20 you'll receive the special guest bagel of the night, a beer (on our visit we drank a punchy Brick Brewery Strawberry and Cucumber beer), along with tahini mac n' cheese, slaw or zoo fries. There's only one side you need and it's the tahini mac n'cheese: flavour levels through the roof, incredibly light, and a way better recreation of the ol' comfort food classic.
The Good Egg: Guest Bagels
Park all your plans for Monday from here on out, as there's bagels to be eaten – and we ain't missing them. Next up on the 2nd July is Brooklyn restaurant Glasserie with their Jerusalem Mixed Grill with zhoug schmear and pickled onion rings, followed by Montreal's Joe Beef on July 9th with their renowned smoked brisket recipe topped with pickled horseradish sour cream and green tomatoes.
And the bagels just keep on coming as Philadelphia's Rooster Soup Co will be dishing up their mushroom Philly Cheese Steak on 16th July, Ivan Ramen's Shiso-Cured Salmon with Nori cream cheese will be next up to the pass, followed by Montreal bagel royalty Fairmount Bagel who will step into the ring with their dijon egg salad.
The penultimate week will see DJ BBQ's bagel inspired by his family's roots in the American Deep South (Rad Rub-Braised Pork with double-smoked scape aioli and green slaw, FYI), and rounding off the series; Black Seed Bagels' 'Everything' bagel will include all-beef breakfast sausage patty with egg and aged white cheddar.
The Good Egg: Other Menu Items
If you're taking your bagel-hating friend along for the ride, The Good Egg's regular menu is also running. Divided into sections (meat, fish and veggies), and aimed for sharing (because who doesn't share their food nowadays), there's plenty for everyone. The whipped feta and freshly baked hand warming pittas are a solid place to start. The crispy chickpeas, the fresh mint, the creamy cheese – it all works. Follow this with the aubergine shawarma spiked with Middle Eastern spices, harrissa and so many other condiments we don't have the word count to mention. Za'atar fried chicken? Get some.
For more information on the Beer and Bagels Nights at The Good Egg and to book – see the website here.
Ground Floor, Kingly Court, Kingly St, Soho, London W1B 5PW