About Time: You Discovered the Best Sunday Night Dining Spots in LondonBy Felicity Spector
As the evenings get longer and rather colder – Sunday nights are just the right time for cosy dinners, and if your sofa doesn't quite cut it – there are plenty of gastropubs and hotel restaurants which are open all week round. But if you fancy somewhere different, here's some of our favourite Sunday night dining spots in town.
1. Best for a Cosy Evening: Oldroyd
The Run-Down: This tiny Islington favourite is open week round, including Sunday nights when it feels especially welcoming. Go for the signature malfatti – spinach and ricotta balls in a rich buttery sauce with crisp sage – and the croquettes with truffle mayo. Save room for the almond tart for dessert, and thank us later.
Where: 344 Upper St, London N1 0PD
2. Best for a Smart Supper: Margot
The Run-Down: This Covent Garden Italian oozes class; service is slick and attentive, the room is beautiful and the pastas are exemplary – from the pumpkin and ricotta ravioli to pappardelle with wild boar ragu. You'll feel glamourous the moment you walk through the door.
Where: 45 Great Queen St, London WC2B 5AA
3. Best for a Romantic Evening: Le Caprice
The Run-Down: Sunday nights at Le Caprice are for live jazz, plus the kind of menu which makes you feel instantly happy. Portions are generous, and on our last visit, Gordon Ramsey was dining there with his family. So if it's good enough for him…
Where: 20 Arlington St, St. James's, London SW1A 1RJ
4. Best for Hanging with the Cool Kids: Two Lights
The Run-Down: As you might imagine from the team behind the Clove Club and Luca, Two Lights was destined to be an instant success. Chef Chase Lovecky's brand of American comfort food is what we all want to eat right now; from the potato bread with bottarga butter to a large wedge of custard tart with burnt caramel.
Where: 28-30 Kingsland Rd, London E2 8DA
5. Best for all Your Heritage Grains: Jolene
The Run-Down: A place in Stoke Newington that mills its own flour from heritage grains sourced from a Gascony farm, owned by a former rock star? Sounds too hipster to be true – but Jolene is a brilliant place, turning out some of the best sourdough in London from that flour, along with pastries and little cakes in the morning and pasta at night. Go on Sunday evening for the laid back vibe and get the bread, all the pastas and all the desserts.
Where: 21 Newington Green, London N16 9PU

Photo Credit: Patricia Niven
6. Best for a Pasta Feast: Pastaio
The Run-Down: For more superb pasta, head to Stevie Parle's newest opening in Soho, where the queues to get in just might be shorter on a Sunday night. There's a fine choice of appetisers but we're here for the massive plates of wild mushroom tagliatelle and (if you've a couple of friends to join you) the sharing platter of reginette with six hour beef shin and gremolata. Fit some chocolate caprese torte in after that lot and you are winning Sunday night.
Where: 19 Ganton St, Soho, London W1F 9BN
7. Best for Middle Eastern Mayhem: The Palomar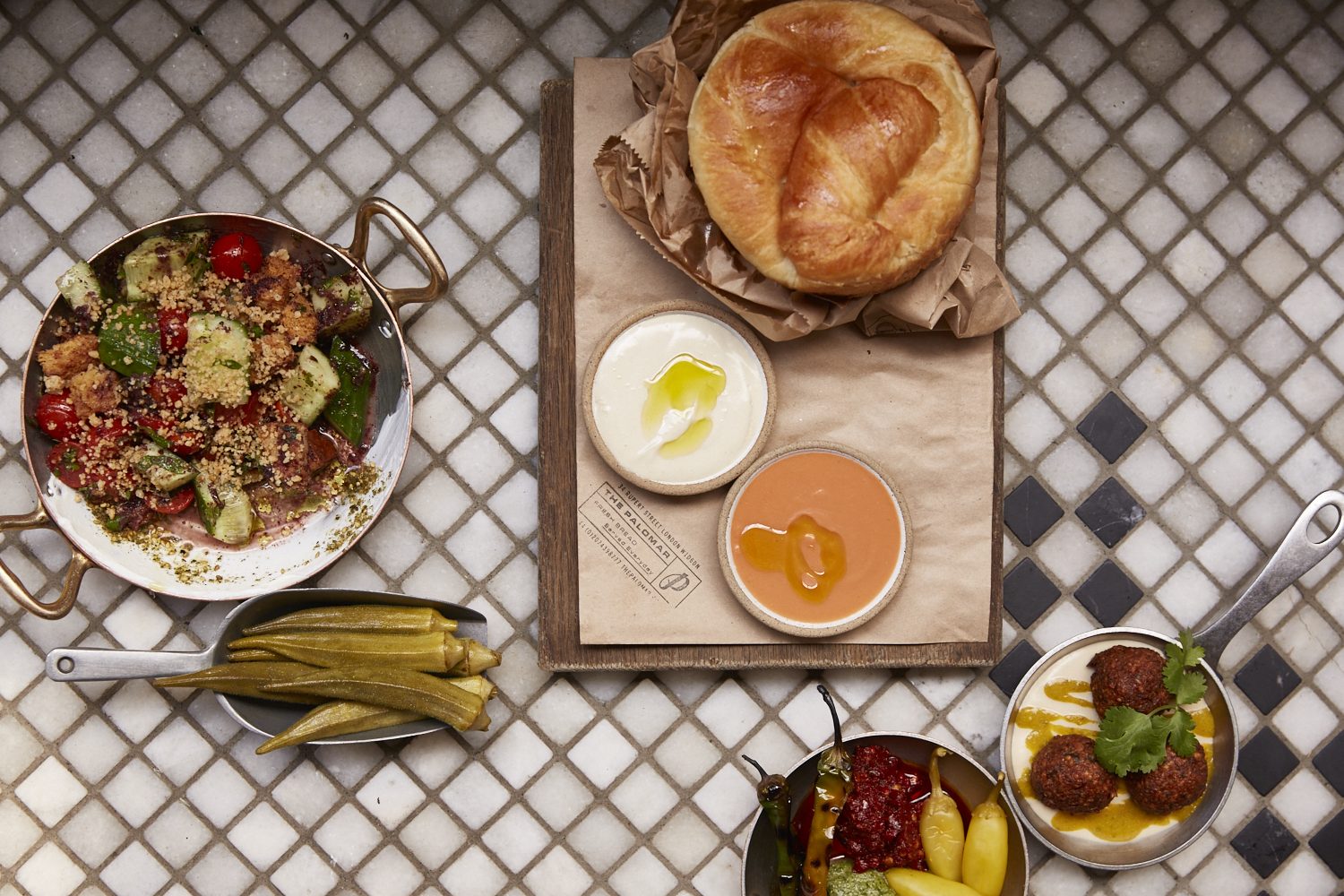 The Run-Down: Every night is full on fun at The Palomar, and head chef Jeremy Borrow's food is as superb as it is generous. You won't miss a thing if you sit at the bar right opposite the pass: the chefs will kvetch, pass you things to try, and produce some astonishing cooking in the process. The kubaneh bread, baked in a clay pot, is unmissable, along with the octo-hummus and whatever the chefs tell you to have. They're always right.
Where: 34 Rupert St, London W1D 6DN
8. Best for Mediterranean Deliciousness: Morito Hackney Road
The Run-Down: This bigger (and happily bookable) branch of Morito is a real haven on a Sunday night, with all the wonderful Mediterranean flavours you could want. The set menu, with more food than you could imagine, is a great bargain for £40, but it's also possible to select a few small plates to share, with all of the labneh, sticky fried aubergine, dukkah and crispy chickpea joy.
Where: 195 Hackney Rd, London E2 8JL