About Time: You Discovered London's Hottest New October OpeningsBy Alicia Grimshaw
Looking for a trendy new restaurant to take your mates? We've got you covered with the best new restaurant openings in London this month. From delicious contemporary Chinese food at Kym's to meat feasts at Black Lock, you're spoilt for choice this month. Here's our pick of the best restaurants in the capital opening soon:
1. For Doughy Greatness: Pizza Pilgrims
The Lowdown: There's no stopping the Pizza Pilgrim boys, as founders Thom and James Elliot are heading to the city with their latest opening. You can't miss the new place, as it's housed in a pizza-shaped building. How kitsch.
Eat and Drink: To coincide with the new opening, the restaurant will have a brand menu, including items such as their reinvented garlic bread –  the Bread Zeppelin – which inflates in the pizza oven and oozes with garlic butter; the Double Pepperoni pizza, with two different types of Pepperoni (produced in the UK) and drizzled with a spiced honey; the Pesto Datterini pizza, made with sweet yellow Datterini tomatoes and buffalo stracciatella, which is placed on the pizza cold after it comes out of the pizza oven; and finally, new desserts such as the salted caramel tiramisu.
Where: Pizza Pilgrims, City Tower 42, Old Broad Street, London EC2N 1HQ
The Lowdown: Coal Drops Yard in King's Cross is opening this month, and several London restaurants are setting up shop, including Spanish tapas legends, Barrafina. As with the existing restaurants, Barrafina Coal Drops Yard will feature authentic Spanish tapas dishes and daily changing specials, this time with a nod towards Catalunya in the first complete menu from Executive Head Chef, Angel Zapata Martin.
Eat and Drink: The menu will have a new, typically Catalan 'Mar y Montaña' (sea and mountain) section with dishes such as Arroz negro with Iberian pork ribs and artichokes; Esparadenyes (sea cucumber) with chicken oysters and picada; and a Cazuela of pig's trotter and prawns. Seafood will figure prominently, including; Quisquillas served cold with olive oil and lemon as para picar; gambas rojas 'a la sal'; and cuttlefish 'a la bruta' served with charred leeks. There will be a daily changing whole fish; and Langostinos de Sanlucar, both cooked in the Josper oven. Desserts will include Lionesas, Catalunya's answer to profiteroles, served with vanilla ice cream and chocolate sauce; Arroz con leche with Tonka beans and cinnamon; and a Canary Island specialty – Platano Canario ice cream.
Where: Coal Drop Yard, Stable Street, London N1C 4AB
Photo Credit: Greg Funnell
3. For Classic Chinese Dishes: Kym's
The Lowdown: Bloomberg Arcade's food options are on heat at the moment, and Chef Andrew Wong's latest restaurant is sure to go down a storm. Kym's, set to open its doors on October 2nd, will feature a selection of dishes based around Andrew's interpretation of classic Chinese dishes.
Eat and Drink: The menus will feature a selection of small bites such as lemongrass salad topped with peanuts, lettuce, chilli and lime; sharing platters of crispy duck, pancakes, plum sauce; and classics such as slow poached soy chicken and ginger relish served with rice. Desserts will feature like the 'Golden Gate' pineapple bun with custard.
Where: 19 Bloomberg Arcade, London EC4N 8AR
The Lowdown: People of Brixton, say hello to your new boozy best mate, Cattivo. Opening later this month, Cattivo will combine laid-back, Italian-inspired dining at street level, with a decadent below ground cocktail bar, hosting nightly entertainment.
Eat and Drink: Taking inspiration from Southern Italy, the main menu will feature cicchetti, small and sharing plates, pastas, ragus and dolcetti. Cicchetti will feature a Frico (fried parmesan crisps), as well as parmesan served by the ounce. Other highlights will include lamb ragu; truffle and pecorino tortelloni; and roast squash salad. A meatball selection, all served in a slow-cooked tomato sauce with fat spaghetti and gremolata, will include ricotta with zucchini and spicy pork with fennel. For dessert, there's Italian grape cake served with mascarpone or Bombolini (Italian doughnuts) with salted caramel butter cream.
Where: 207 Ferndale Road, Brixton, London SW9 8BE
5. For Street Food: Pergola Olympia London
The Lowdown: They listened. They acted. They delivered. Pergola is back with a brand new, rooftop location high in the sky. Never before has the historic Olympia London had a venue built on its roof… until now. A botanical rooftop destination like no other, Pergola Olympia London has communal seating for 500, three independent restaurants and a huge open bar. The best bit? This Pergola is open all year-round.
Eat and Drink: Pick from one of three independent restaurants to dine from, including crustaceous eatery CLAW, known for their crab creations, burger legends Patty & Bun for your beef fix (and them crispy chips), or pizza perfectionists Passo.
Where: Level Five Rooftop, Olympia Car Park, Olympia Way, Kensington W14 8UX
Photo Credit: Pasco Photography 
6. For Mexican Eats: Casa Pastor
The Lowdown: One opening we're super looking forward to this month is Casa Pastor, another newbie at Coal Drops Yard, and Mexican big sister to Borough's El Pastor and Bermondsey's Tortilleria El Pastor. As with its siblings, the new 80 cover restaurant will focus on tacos and other Mexican dishes, with tortillas made in-house daily from heritage Mexican corn.
Eat and Drink: The food menu includes starters of sopes, guacamole, tostadas and corn esquites. A rotisserie will spit-roast spiced chickens, to be served as quarters, halves or whole with tortillas, salsas and chicken fat roasted onions – and refried beans, slaw and chiccharon de pollo available as sides. Tortas buns will be filled with a selection of meat or vegetarian options from the robata grill, including: green pork belly; Chile relleno capeado and 'Torta Kennedy'. And, most importantly, an extended tequila list will be also be available.
Where: Coal Drops Yard, Stable Street, London N1C 4AB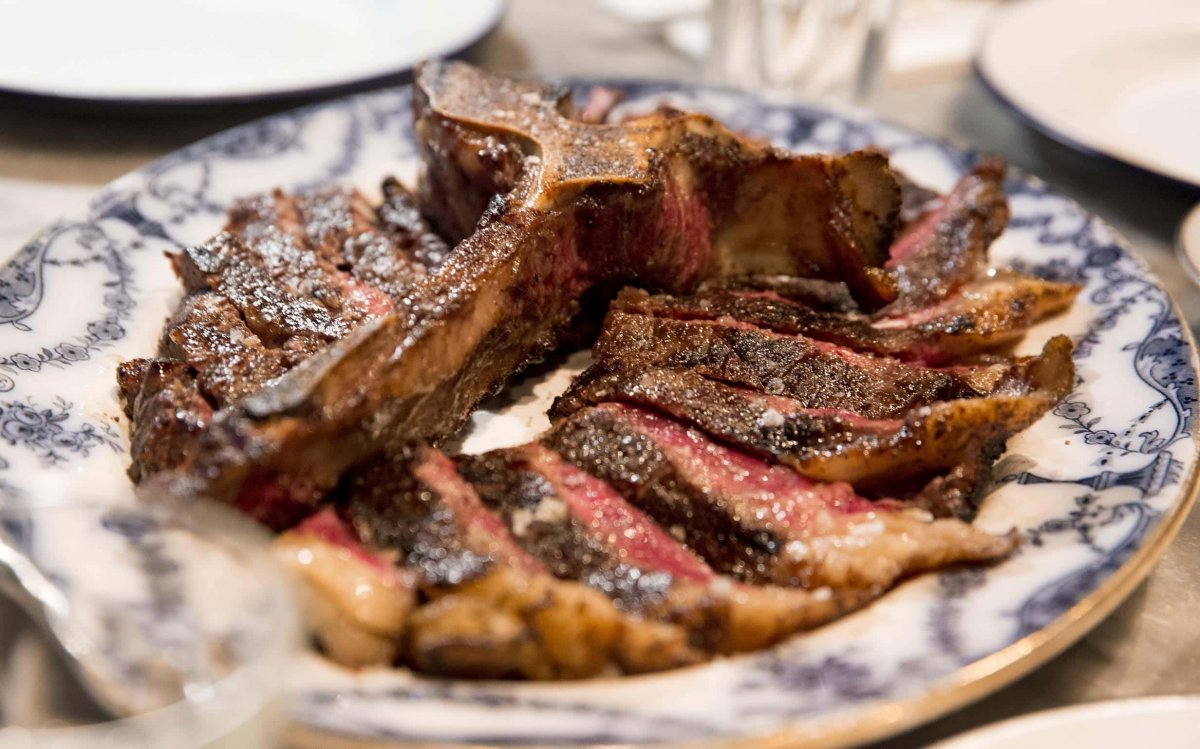 The Lowdown: Blacklock are heading east with their latest outpost. Opening in Shoreditch later this month, Blacklock will be knocking up their infamous chops for lunch and dinner as well as their signature Sunday roasts (the all in for £20 a head is an absolute steal).
Eat and Drink: As usual, the restaurant menu will focus on the very best grass fed meat in the country from their award-winning Cornish farmer and butcher Philip Warren, all cooked over charcoal with a little help from the restaurant's namesake, a vintage Blacklock Foundry iron. With the usual favourites chops, steaks and other meaty treats as well as sides including the celebrated 10 hour ash roasted sweet potato and barbecued baby gems with anchovy dripping.
Where: 28-30 Rivington Street, London EC2A 3DZ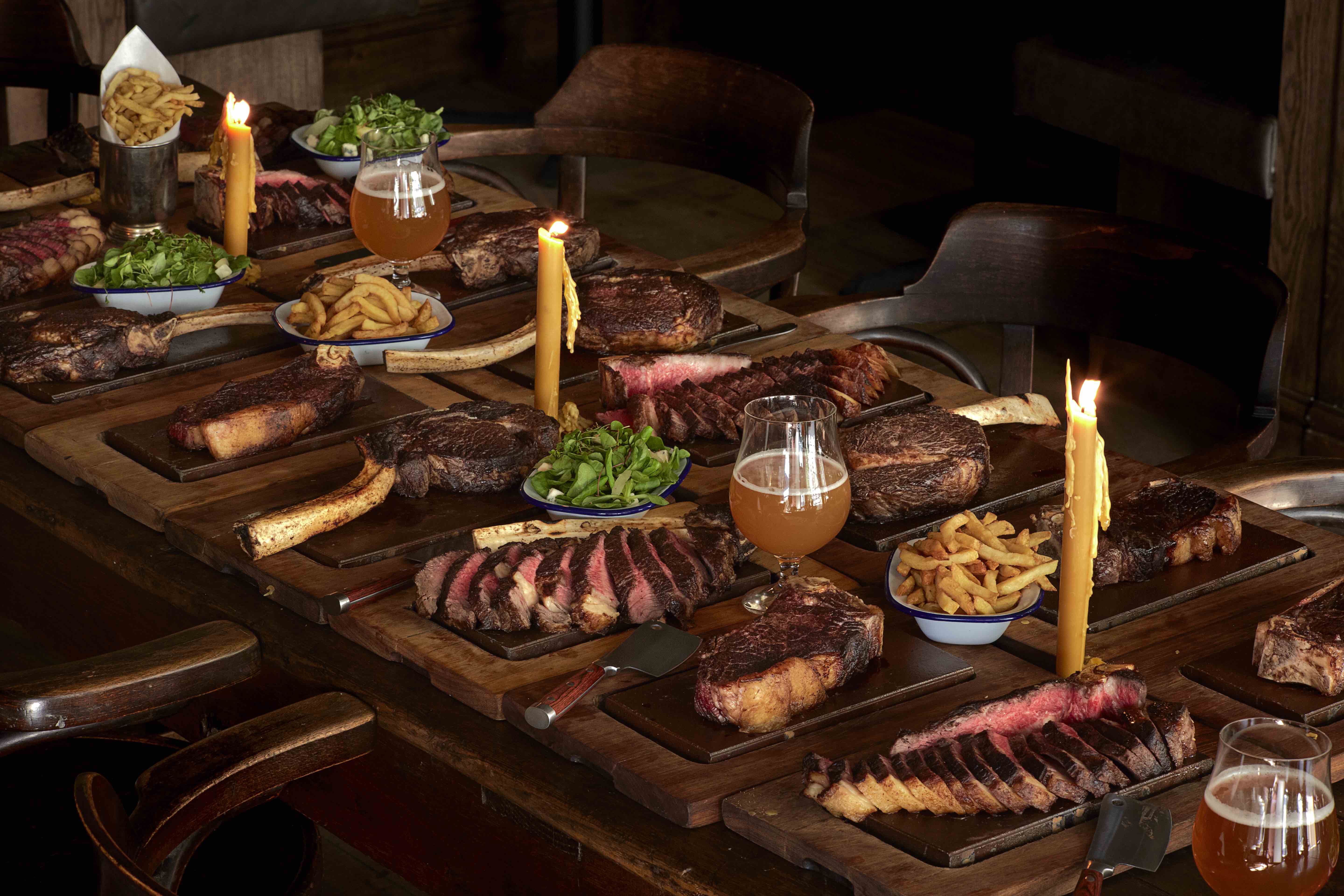 The Lowdown: Originally a pop-up in the summer of 2012, Flat Iron's unwavering mind set of doing a small number of things really well has since garnered a cult following. Self taught butcher Charlie Carroll and his team will be open Flat Iron on Caledonian Road, King's Cross on October 4th.  A slap up steak dinner for a tenner? You know it.
Eat and Drink: The 'flat iron' steak which Charlie's restaurants specialise in is taken from the often underused feather blade of the animal. Flat Iron King's Cross will also serve more specialist cuts, including the underblade fillet, tri tip and rump cap from Flat Iron's own Yorkshire herd of rare and native breed cattle. Their beef dripping chips, whose final recipe was found at batch #128, will be joined by a Flat Iron first in the form of wagyu fries, cooked in wagyu fat, prized for its sweet nutty flavour, whilst made to order ice-cream will be available for the first time at the restaurant.
Where: 47-51 Caledonian Rd, King's Cross, London N1 9BU