About Time: You Tried the New Vital Ingredient Salad RangeBy Angelica Malin
Think salads are all sad, limp leaves and a handful of token veg? Think again. This week, we're pumped to be working with Vital Ingredient for #VitalHealthWeek – expect tasty food features, a special competition and lots of ideas for getting healthy in the capital. With Vital Ingredient, you can customise your salad in any way you like – making delicious, varied salads that suit your personal needs. We're mad about the Vital Ingredient range – with loads of vegetables, protein and tasty extras to choose from, it makes eating a salad for lunch a real pleasure! For more information, get involved by following them on Twitter here, Facebook here and Instagram here for all the latest news. Looking for some lunch time inspiration? Here's our favourite Vital salads for your delectation:
Vitals' new seasonal salad range is something to shout about – with lots of delicious new salads and ingredients to choose from, you'll have a spring in your step in no time. We love the new additions to suit the warmer weather – Spring launches include a divine mango and chicken burrito, a great hummus and falafel salad, and a beautiful rainbow veg noodle, all packed with healthy ingredients that complement each other and make the ideal lunch. Of course you can still tweak them or completely create your own – that's their ethos after all. What's more, if you're in a hurry, you can order your salad using Vital's app, which allows users to pay automatically using their phone, order delivery and collection, and most importantly earn 10 loyalty points (10p) per pound spent. Download it here! 
Vital Ingredient is about eating your way – whether that means dairy, gluten or meat free, or adding your favourite ingredient into your salad. There are over 5,000,000 different variations of salad you can eat from their choice of salad bases, ingredients and dressings, and here's some of our favourites from the new Spring range:
Perfect For: Gym bunnies and those looking after their digestive systems!
The Mix: Quinoa, Tuna, Egg, Petit Pois, Courgette and Mooli Noodles, Cucumber, Mixed Seeds and French Dressing
The Lowdown: We love this salad for its combination of protein, vegetables and healthy fats – the quinoa will keep you full all afternoon, giving a little protein boost, and the French dressing is lighter than other creamy dressings. We love the freshness of the salad, with fresh herbs, raw petit pois and crunchy seeds, it's the perfect thing for the lighter salad days. If you're a meat eater, add in some fresh chicken for an extra protein boost.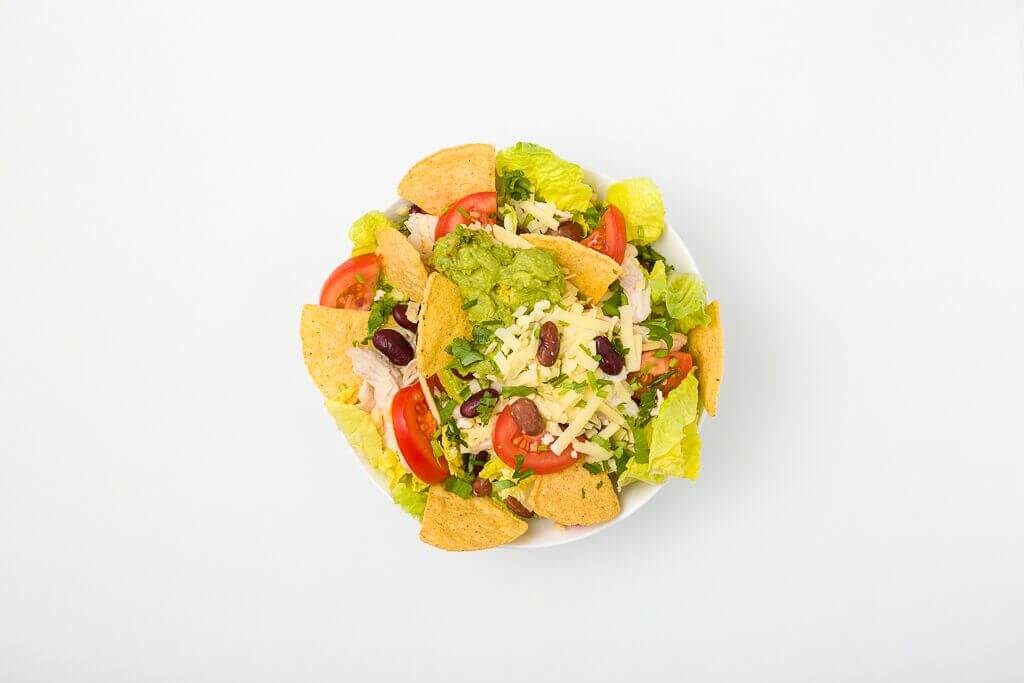 Perfect For: When you've had a tough week, and only Mexican will do.
The Mix: Chicken, Spicy Avocado, Mixed Beans, Cheddar, Tomatoes, Tortilla Chips and Ranch Dressing.
The Lowdown: A healthier take on classic Mexican fare, this salad is certainly more of a main meal than a side, with loads of delicious nibbles to keep you satisfied all afternoon. You'll be getting lots of energising protein from the mixed beans and chicken, and some sustaining healthy fats from the avocado, plus some delicious naughtier extras like cheddar cheese, crunchy chips and the creamy ranch dressing. A Friday treat, for sure.
Perfect For: Anyone who wants a hearty, filling salad.
The Mix: Chicken, Roquito Peppers, Green Beans, Carrots, Sweetcorn, Peanuts and Sweet Chilli Oil .
The Lowdown: This is one of our favourite salads on the menu, and one I simply demand you try. For me, the salad has the perfect balance of flavours – tender chicken, sweet roquito peppers, the crunch of pumpkin seeds and the freshness of green beans and sweetcorn. Simply the ideal combination, and one we can't get enough of. If you're veggie, swap the chicken for roasted cauliflower or homemade falafel.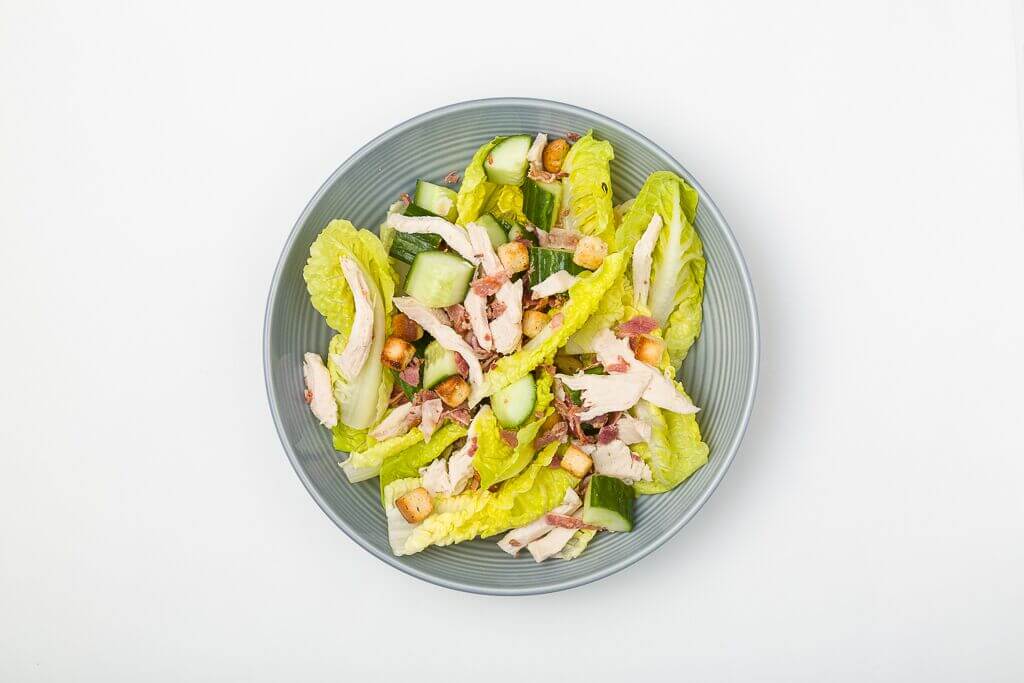 Perfect For: Keeping things nice and simple on your lunch break.
The Mix: Chicken, Bacon, Grana Padano, Croutons, Cucumber and Caesar Dressing
The Lowdown: Who doesn't love a chicken Caesar salad? They have no soul. This is a classic salad you simply can't miss, and Vital makes a great one. The creamy dressing is really what makes this salad – covering the delicious fresh, crispy lettuce leaves, the perfectly cooked chicken in a delicious mouthful. Only the best parmesan is used in the salad, so you won't get any sad parmesan crumbs in their Caesar!
Perfect For: Getting a boost of double meat and healthy fats!
The Mix: Chicken, Bacon, Spicy Avocado, Egg, Tomatoes and Blue Cheese Dressing
The Lowdown: One of the best new spring salads at Vital in our opinion, this Super Cob is all about getting your protein in, in a delicious and flavoursome way. The salad is a real treat – a mix of soft chicken, crispy bacon, tasty fresh tomatoes, a decadent blue cheese dressing, and spicy avocado with a kick to bring it all together. We love!
Perfect For: Vegans looking for a fresh and light spring-time lunch.
The Mix: Courgette and Mooli Noodles, Carrot, Beetroot, Asparagus, Chargrilled Broccoli, Mixed Seeds, Mixed Hears, Soy Sesame and Ginger.
The Lowdown: If you're looking for something light and fresh, this salad is the one. The Rainbow Veg Noodles is all about taking the classic flavours of Pad Thai, and well-loved noodle dishes, and making into something new and better for you. Think a perfect blend of seeds, vegetable 'noodles' and a dressing that will knock your socks off. The ideal lunch on the go when you need something light and fresh, we think this one is going to be a real summer favourite.
Don't know Vital? Well, Vital Ingredient is the go-to venue on the high street for healthy, good quality food that you can create from start to finish. The are 19 stores currently with 2 new ones launching in 2017, across the City, Soho, Holborn and the West End. You can see all locations here.
Sponsored post in assocation with Vital Ingredient for #VitalHealthWeek – follow them on Twitter here, Facebook here and Instagram here.