About Time: 3 West London Restaurants You Need to VisitBy Claudine Levy
People say 'West is Best', and sometimes it is, especially when it comes to restaurants. Here you'll find trendy counter-style restaurants, neighbourhood finds and just proper lovely places. Go on, have a scroll:
What: The Neighbourhood Local at Morty & Bob's, Kensal Rise.
Why: The word charming comes to mind with this place – still retaining that indie feel, despite having a total of three restaurants (Kings Cross, White City). The Kensal restaurant is situated in a quaint tree-lined residential street – beset with a boutique, Italian deli, local library, post office and a couple of independent greengrocers.
Morty's truly nails that elusive day-to-night promise. It offers a bright and airy space for breakfast and lunch, right through to a warm and buzzy atmosphere for dinner and cocktails. We tried their expresso martinis and can genuinely and confidently say that they were the best we have ever had: a perfectly rounded coffee elixir topped with an almost Guinness-like foam. The food menu also offers up a rotating array of European-American influenced dishes with fresh, delicious produce at its centre.
Where: Kensal Rise, 118 College Rd, London NW10 5HD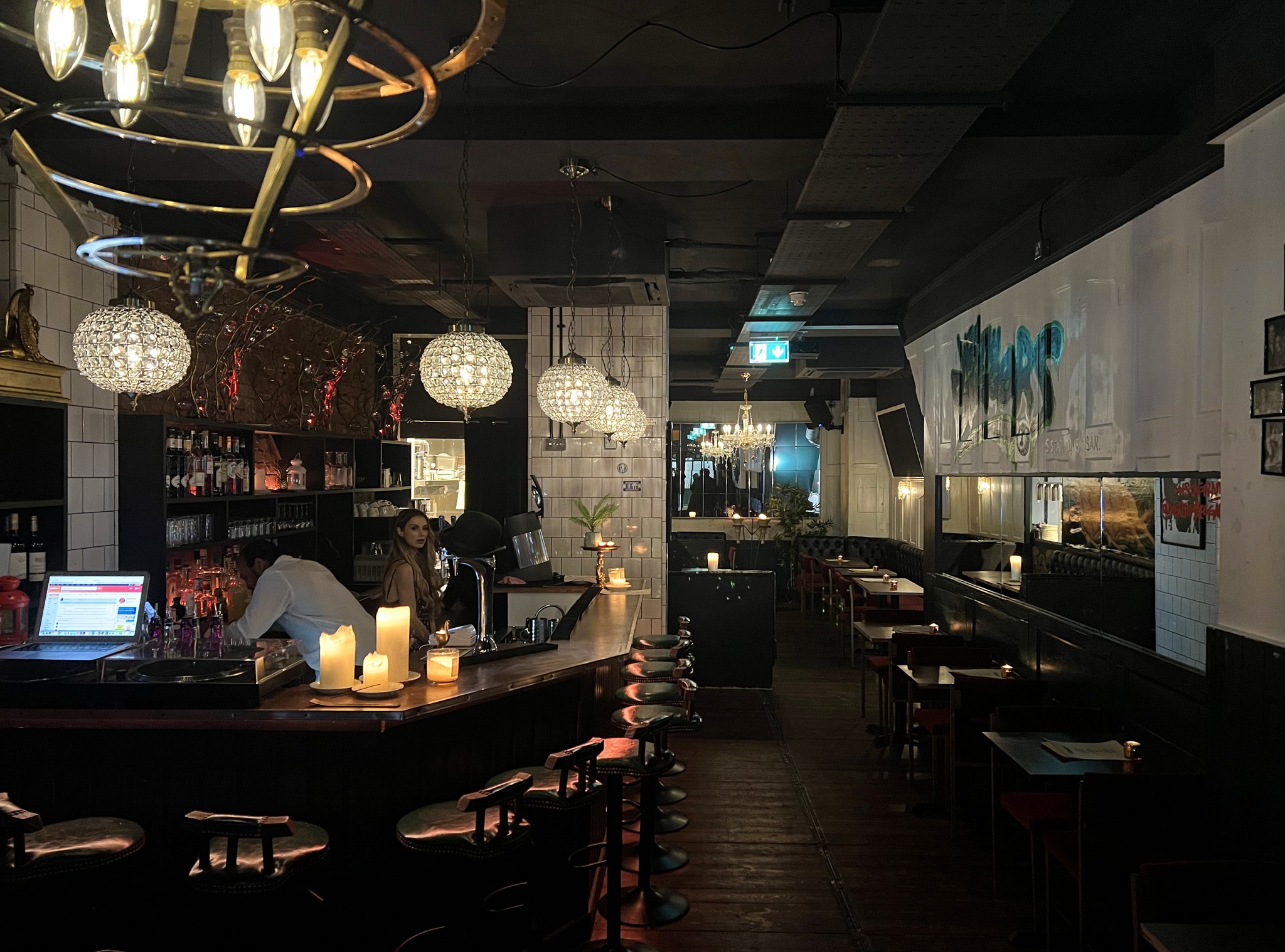 What: Fun vibes and carefree cocktails at The Wealthy Beggar.
Why: This dive bar has a truly unique energy. It's hard to put your finger on the ingredients which comprise The Wealthy Beggar's strong appeal. It has a lot to do with the people who work there. There's an intimate, unpretentious vibe – almost like you've just wandered into a friendly friend of a friend's private bar.
When we went there was no drinks menu, you could just request anything you fancied, and these guys can do all the classics. The food took us by surprise – headed up by a playful chef, the menu frequently changes. Flitting between different genres but firmly occupying a convivial small-plate concept. Every dish we tried was absolutely delicious and palpably made with love.
Where: Kensal Rise,  109 Chamberlayne Road, Kensal Rise, NW10 3NS
What: Mouth-watering morsels at The Counter.
Why: Ocakbasi is a quintessential Turkish method of cooking which usually involve epically proportioned charcoal grills where food is barbequed on an open fire.
You know somewhere is good when local diaspora communities flock to eat the food of their homelands. We were surrounded by tables of Turkish friends and family coming together to share plates of this incredible food. There are also lovely little touches, with dishes served alongside cards detailing the ingredients' provenance – like the salt which is sourced from the Aegean sea.
With modern and playful reinterpretations of classic dishes, chef Kemal Demirasal combines sometimes daring flavour combinations to create food which is truly exciting and compulsive to eat. Take the clotted cream honey sourdough with dukkah, wild thyme honey, truffle oil – it sounds like… A lot. But the flavours and textures harmonise to create one of the stand-out dishes we've recently eaten in London. And did we mention the white chocolate baba-ghanoush? This place is special. Go.
Where: Notting Hill, 108 Golborne Rd, London W10 5PS
Photo credit: Sam Harris