Breaking news: it's hot. Really, really hot. We're British, and we don't like being hot, so here's ten great ways to get un-hot this week. Any excuse to eat boozy ice cream, we say. Here's our top ten ways to cool down in the capital – stay fresh, people:
1. Fuse Cocktails and Ice Cream at OXBO Bankside
What: What's better than ice cream? Cocktails and ice cream rolled into one, of course! OXBO Bankside is making all your dreams come true with their new launch. OXBO has announced the launch of their own range of alcoholic sorbets and ice cream on their dessert menu, making the perfect sweet treat after work during the summer.
Eat: Dishes include tequila shot sorbet, Mojito sorbet, Strawberry Daiquiri sorbet and Pina Colada ice cream to name a few – with toppings that will change regularly with the seasons. Yes, please.
Where: Hilton London Bankside, 2-8 Great Suffolk St, London SE1 0UG
2. Enjoy Al Fresco Ice Cream at Big Easy Canary Wharf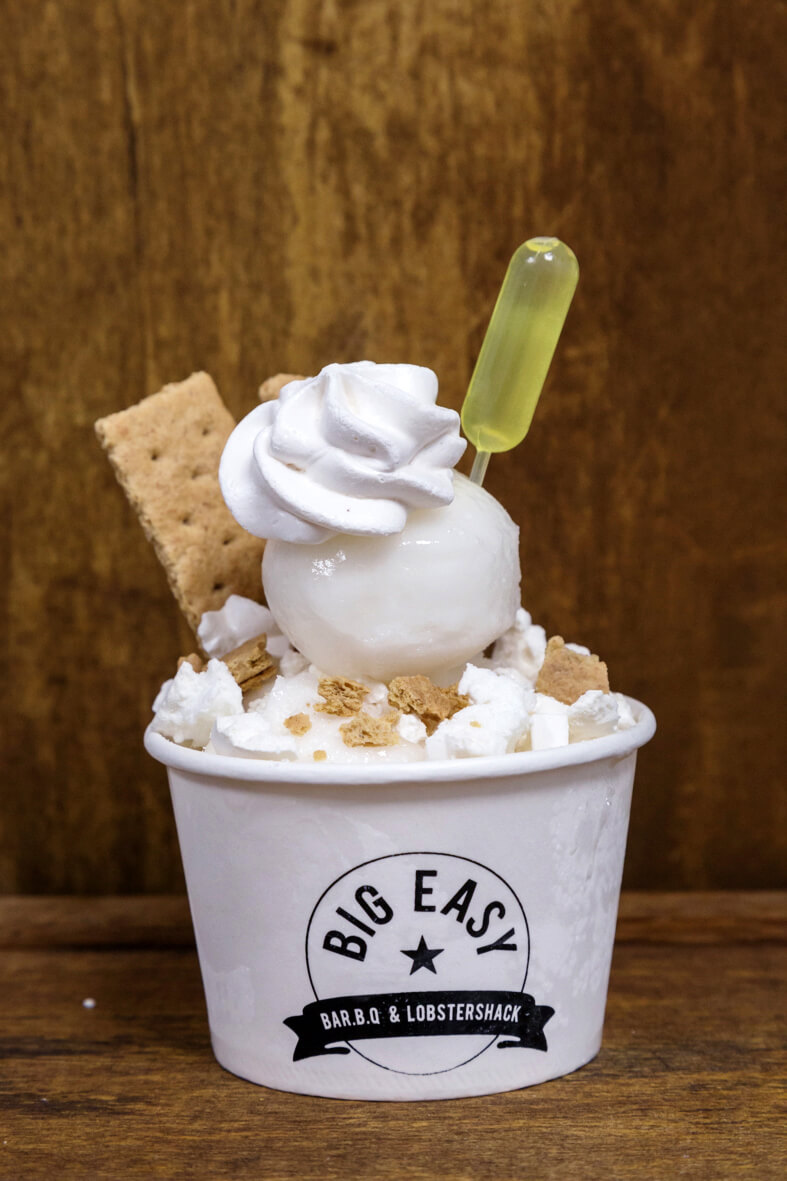 What: Need to bask in the sun? Well, guests can celebrate in the sun at Big Easy Canary Wharf's wrap-around terrace, whilst enjoying one of the Dressed Up Scoops which come paired with complimenting pipettes of booze.
Eat: The house-made ice creams come in a variety of flavours including mint choc chip with Crème de Menthe, blueberry cheesecake with Sloe Gin and lemon meringue pie sorbet with Limoncello, all priced at £6.90. For an extra £1, diners can add popping candy or additional pipettes of their chosen liqueur. For something a little different, indulge in the maple and caramelised pit-smoked bacon ice cream sandwich with house smoked maple syrup for £5.90.
Where: Crossrail Place, London E14
3. Eat Frozen Custard at Shake Shack
What: Looking for something different to your normal ice cream scoop? Diners looking to cool down this summer can head to Shake Shack to enjoy the dense, rich and creamy ice cream, spun fresh daily, which is used as the foundation of the Shack's shakes and concretes -a frozen custard blended at high speed.
Eat: All the frozen custard. Guests can indulge in a range of 'concretes' with mix-ins with local partners; from Cardiff's Crunch-Stellation (vanilla custard, malt, paul a young chocolate chunks and chocolate toffee) to Covent Gardens' Drury Lane Jam (vanilla custard, local strawberry jam, St. JOHN Bakery brown sugar biscuit and fresh banana). Heaven.
Where: Throughout London here
4. Try Soft Serve at Tom's Kitchen
What: Throughout the summer, Tom's Kitchen Canary Wharf Deli are offering guests delicious soft serve vanilla ice cream. Because what's better than homemade ice cream, right? Tom's Kitchen is getting it so, so right.
Eat: Choose from some delicious toppings, such as a homemade flake, nut praline, honeycomb, and Hundreds & Thousands. If you want to get saucy, there's also strawberry, chocolate and toffee sauce. Ice creams are priced at just £2 each, with an extra £1 for a choice of one or two toppings, and sauce. Furthermore, Tom's Kitchen St Katharine Docks will be offering guests homemade ice cream at £1.50 for 1 scoop, or £3 for 3 scoops, and with a choice of chocolate or strawberry sauce for just 30p.
Where: Locations here
5. Destroy Alcoholic Sundaes at Social Eating House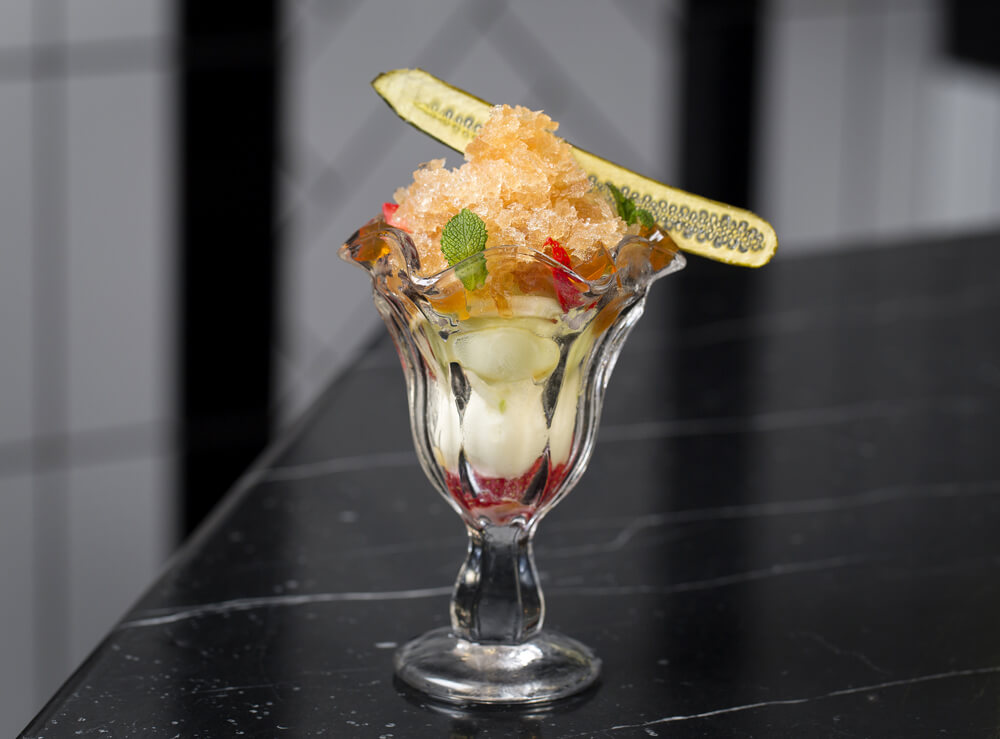 What: Jason Atherton's Michelin-starred Social Eating House has created a menu of boozy ice-cream sundaes for guests to enjoy throughout the summer months. The Social Eating House is known for its creative flavours and seasonal specials, and this is one not to miss.
Eat: From the quintessentially British Pimm's Sundae, featuring lemon, mint, cucumber, orange sorbet, strawberry and Pimm's granite, to the Strawberry Daiquiri Sundae, now you can enjoy your favourite summer treat, the grown-up way.
Where: 58 Poland St, London W1F 7NS
6. Try Shaved Ice Kakigori at Sosharu
What: One of the most innovative dishes on the menu at Jason Atherton's latest opening, Sosharu, is the dessert to celebrate summer. This one is a perfectly quirky alternative to ice cream, but we really love it.
Eat: Made using a special ice shaving machine brought back from Japan, a thinly shaved mound of ice is flavoured in front of guests with a sweet strawberry syrup. The dessert is then garnished with balls of mochi and intensely delicious Japanese pears for a sweet and refreshing ode to the warmer months.
Where: 64 Turnmill St, London EC1M 5RR
7. Eat Rainbow Ice Cream Sandwiches at Queen of Hoxton's Rooftop
What: This summer, Shoreditch's favorite rooftop The Queen Of Hoxton has been reincarnated with a Summer of Love theme. Perfect for hasty after work sunshine Instagram shots, expect an intoxicating utopia filled with flowers, trippy visuals, and interactive installations to satisfy your inner flower child.
Eat: There's a psychedelic tree-house to climb and admire views of London while dousing yourself with a blood orange margarita slushy. They've also got rainbow ice cream sandwiches, which we think is reason enough to visit.
Where: 1 Curtain Road, London EC2A 3JX
8. Drink Cocktails in the Sunshine at Hoxton Square
What: Hoxton Square is enjoying a bit of a revival of late, with Mothership Group (behind The Book Club, Queen of Hoxton and Patterns in Brighton) taking of legendary live music venue Hoxton Square Bar & Kitchen.
Drink: Grab a cold takeaway beer from the venue and sit in the buzzy square, before heading inside to take a look at the Origins East photography exhibition of 90s rave. Saturday night (23rd July) see the legendary Plastician take to the decks for the finest disco, funk, R&B, Soul and Old School Floor Fillers, and the venue transformed into a disco paradise. Groovy baby.
Where: Location here
9. Discover Godiva's Rose and Raspberry Chocolixir
What: Looking for a delicious summer special? As part of their 90th anniversary celebrations in 2016, Godiva Chocolatier have created a new Rose and Raspberry flavour. You can also try it as a Godiva Rose and Raspberry Chocolixir – £4 from all Godiva Boutiques. It's totally to die for.
Drink: The flavour combination is divine. As a drink, freshly prepared to order, the multi-layered and flavourful is a cooling sweet summertime treat. Crafted from creamy white Godiva chocolate, the Chocolixir is crushed with ice, drizzled with an elegant Rose & Raspberry sauce and also sprinkled with those delightful, crispy raspberry pieces. Heaven in a glass, we say.
Where: All Godiva boutiques here
10. Try a T.E.A. Cocktail at Urban Tea Rooms
What: T.E.A. (Tea Enriched Alcohol) are multi award winning, 100% natural, 100% gluten-free, artisan British spirits infused with the world's very best tea leaves and botanicals. For a deliciously different way to cool down this summer, try one of their cocktails.
Drink: Each T.E.A spirit, such as buttery-smooth Earl Grey Gin to Jasmine Vodka, enriched with the finest jasmine silver tip tea that is picked only once a year, triumphed in its respective category in the esteemed San Francisco World Spirits Competition. The quality really shines through with their cocktails, which can be enjoyed at the Urban Tea Rooms. Try the delicious Cucumber Gin Fizz, featuring T.E.A Jasmine Gin, cucumber, fresh mint, lime juice, elderflower and Noilly Prat.
Where: Unique T.E.A cocktails can be enjoyed at Urban Tea Rooms (the founders' Soho cocktail bar) or purchased online here
And a few for luck…
11. Try a Macaron Frappé at PAUL 
What: British summer has finally arrived and as the heatwave hits the capital this week experience the ultimate cool down to quench your thirst and keep you from melting. Leading French artisan bakery and patisserie, PAUL, introduces a moment of cool in the form of a moreish Macaron Frappé.
Drink: Containing PAUL's delicious macaroons in every cup, the master baristas will carefully crush and blend your chosen flavour – raspberry, Madagascar vanilla, chocolate or pistachio into the drink of your dreams. Adding a dash of milk, a sprinkle of vanilla and a handful of ice, this is a magical fusion you won't find anywhere else! Macaron Frappés are available throughout PAUL shops for £3.75 each, available to drink in or takeaway, and can be enjoyed with an additional selection of toppings such as whipped cream for just 65p extra.
Where: Locations here