Whisky Cocktails: Fun Drinks You Can Make with WhiskyBy Angelica Malin
There was a time when whisky was seen as the drink of scoundrels in the Wild West, but the liquor has come a long way since its early beginnings and is now seen as a drink of some sophistication.
Whisky first gained popularity after the 15th century but its existence can be traced much further back than this date. It was in Scotland where the drink found mass appeal though and production grew rapidly through the use of illegal distilleries while England tried to enforce taxes on the drink.
Although it has been linked with legends such as Frank Sinatra, whisky hasn't always been seen as a cool drink. Younger drinkers in the past have shunned whisky in favor of other spirits such as vodka. Now though, whisky is having a serious party in the limelight, and along with gin is being taken very seriously by consumers and mixologists alike.
Dedicated whisky rooms exist around the world, and the drink is popular all over the world. To give it a little more of a 'fun' edge, here are some recipes to entice you to use whisky in different ways. 
For those cold nights
Although right now it is the middle of the year, and summer is being enjoyed in many countries, there are many overseas drinkers who may be in colder climes.
There are many whiskies from unusual places around the world, so it is only fair to include a couple of hot whisky recipes. 
Hot Buttered Whisky
You will need a few ingredients for this drink, and it might suit Christmas time when it is more likely you will have them in the cupboard. However, this is a lovely warming drink for any cold evening.
 Ingredients for 4 people (or 4 drinks for one…)
 – 225 ml of Scotch whisky
– 30 grams of (important) unsalted butter
– A pinch of ground cloves
– A pinch of ground cinnamon
– A pinch of freshly grated nutmeg
– A pinch of allspice
– 20 grams of light brown sugar
 Method: 
1. Mix all the ingredients together except the sugar and whisky. Now beat in the sugar
2. Add 350ml of water into a pan along with the whisky and heat up. Do not boil! Share the whisky between four glasses suitable for hot drinks, drop in a small amount of the butter mixture and serve.
Spicy Hot Chocolate

Hot chocolate is always a comforting drink when it is chilly outside and the fire is roaring. Adding in some whisky can make this a very adult version.
Unfortunately, this drink does have a lot of ingredients, but if you are making it for someone special as a treat, they are sure to enjoy it. Just as long as they have a thing for spice!
Ingredients: 
 – 4 squares of chocolate
– A pinch of salt
– 1 tsp of instant coffee
– 1 dried red chili pepper
– 2 cups of milk
– 2 tbs of honey
– Whisky of your choice
– Ground cinnamon
– 1/4 cup of hot water
Method: 
1. Add the chocolate, hot water, salt, coffee, chili pepper, and honey to a pan and put on medium to low heat. Keep stirring and allow to just reach boiling temperature before reducing to low.
2. While it is simmering, keep stirring for about 1 minute. Now, very slowly stir in the milk and keep on the heat until the mixture is warm. 
3. Pour a measure of whisky into a mug then carefully pour in the hot chocolate. Top with whipped cream and ground cinnamon. If you want something a bit spicier, use spiced whisky. 
Cooler whisky drinks for hot days
There are many delicious whisky cocktail recipes but many people don't think about using Scotch or bourbon in their drinks. Here are a couple of drinks that are perfect for warm evenings and sunny days. 
Frozen Whisky Sour
Many whisky drinkers will shake their heads at the mere mention of a whisky sour, but regardless of how it is looked at, it remains a tasty drink. What's more, it is nice and easy to make, even in its slushy form as this one is.
The only downside is, you will need to prepare these a few hours ahead of when you want them.
Ingredients: 
– 340ml of frozen lemonade – defrosted
– 170ml of frozen OJ – defrosted
– 5 cups of water
– 3/4 cup of sugar – brown if preferred
– 2 cups of whisky
Method: 
1. Simply combine everything in something suitable for the freezer. Place in the freezer until it becomes slushy and serve. Garnish as you please. 
Chilly Ginger Whisky Beer
When you have friends over, you can make the kitchen the most sociable room in your home by mixing drinks there for them. This one is simple, tasty, different, and long.
 Your friends may not be surprised at the use of ginger with whisky, but once they see you add IPA beer into the mix you will grab their attention.
 Ingredients: 
– 50ml of your favorite whisky
– 70ml of IPA beer
– 15ml of lemon juice
– 15ml of lime juice
– 30ml of honey syrup
– Fresh ginger
Method: 
1. Muddle the ginger in a shaker and then add all the other ingredients except the IPA beer.
2. Shake well and pour over large ice in a tall (highball) glass, before topping up with the IPA beer. A twist of lemon peel makes a nice touch as a garnish.
The popularity of whisky today
Whisky is seen by some as a drink that is sipped while deep in thought alone in a study. Others may link it to smoky poker rooms, while others think of movie stars.
 It is a drink that is enjoyed by all sorts of people from every walk of life. It is certainly not restricted to the United and States and Scotland, in fact, the biggest consumers are from neither country.
According to Business Insider, India consumes more whisky than any other nation, and it was expected that the amount drank would reach around 6.5 billion liters by this year. 
One classic whisky recipe
There is one more drink that has been around for nearly a hundred years, but many people new to whisky may not have heard of it. This classic drink first appeared in a cocktail book from The Savoy. 
Blood and Sand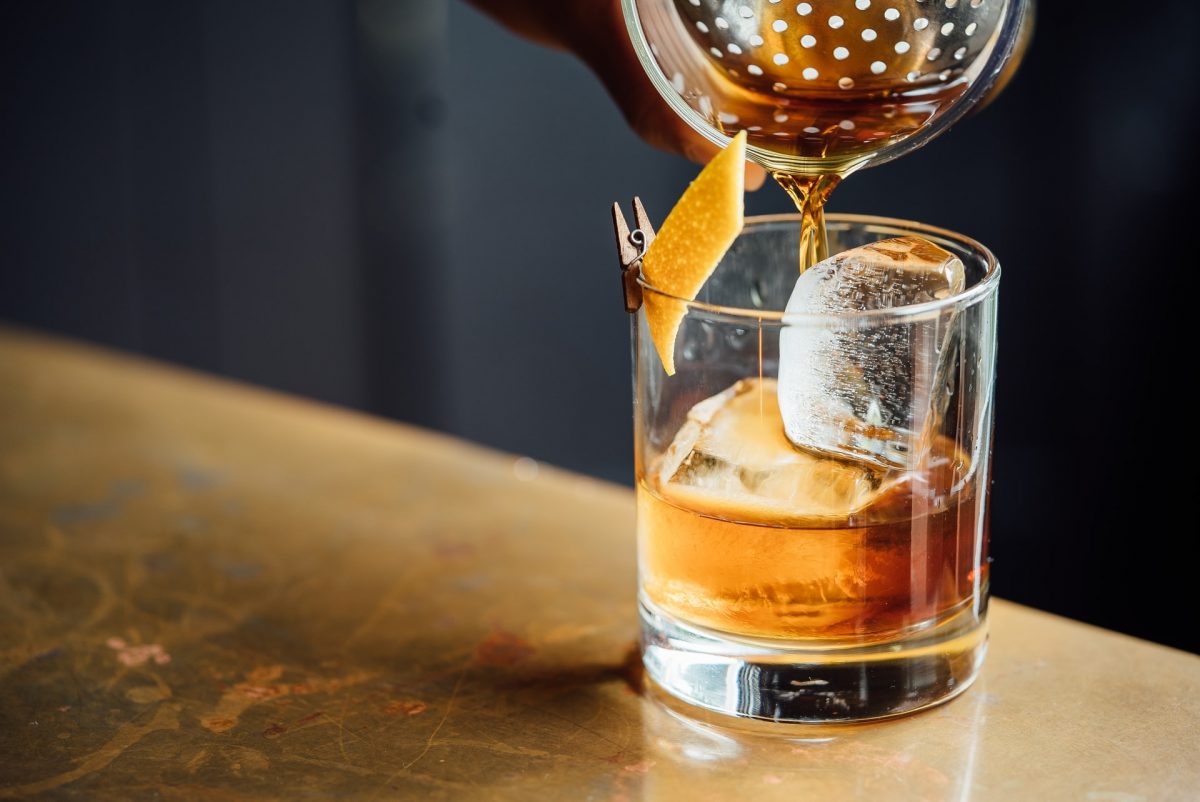 Named after a 1922 movie which starred Hollywood heartthrob, Rudolph Valentino, this cocktail contains 3 different types of alcohol and looks great.
Ingredients: 
– 22ml of Scotch – has to be Scotch
– 22ml of sweet vermouth
– 22ml of cherry liqueur
– 22ml of orange juice
Method: 
1. Add all the ingredients into a shaker filled with ice and shake.
2. Once the drink is chilled, strain into a cocktail glass and garnish with orange peel.
Summary
Whisky is fast-looking like it will be the trendy drink for 2021 as sales are surging. Gin has enjoyed a serious revival over the last few years, and it seems that whisky is heading the same way.