Craving some liquid goodness in your life? You're not the only one. With the evenings longer,  weather hotting up and the arrival of summer just around the corner, it's the perfect season for cocktail drinking (whether it be a low-key Wednesday evening or on a boomin' Saturday night).
The Lowdown: The Wigmore has launched a new cocktail list to sit alongside the pub's signature food and drink menus. Created by Head Bartender Bohdan Burkovetskyi, who joined The Wigmore last year following a successful career as a Bar Manager in Kyiv, Ukraine, working at the likes of Bursa Hotel and Kyiv Food Market, the menu is creative, exciting and downright delicious.
Drink: Highlights from the 11 new cocktails include the Earl Grey Negroni, which interprets the tea flavour through Tanqueray Gin, Italicus Aperitivo, dry vermouth, bergamot aroma, or fruity creations including a tequila-based Sassy Mango cocktail or rum Pineapple Express Martini. For those looking for something sharper, there's the Bitter Sweet Symphony with vermouth or Churchill Cigar made up of cognac and port.
Where: 15 Langham Pl, London W1B 2QS
The Lowdown: Located near London's Marble Arch, The Malt Lounge & Bar inside The Prince Akatoki, has introduced a new cocktail menu – A Journey Through Japan – that celebrates the best of Japanese flavours and aromas.
Drink: Expect an exciting range of flavours, inspired by the regions of Hokkaido, Yagamata, Miyazaki, Shiba and Akita. The handpicked local aromas include Daikon, Shikuwasa, Amazake, Persimmon and Peach leaves. These flavours have been adapted by the Malt Lounge and Bar team with modern techniques such as fermenting Semillon wine with chestnut honey and brewing Jasmine tea kombucha. 
Where: 50 Great Cumberland Pl, Marble Arch, London W1H 7FD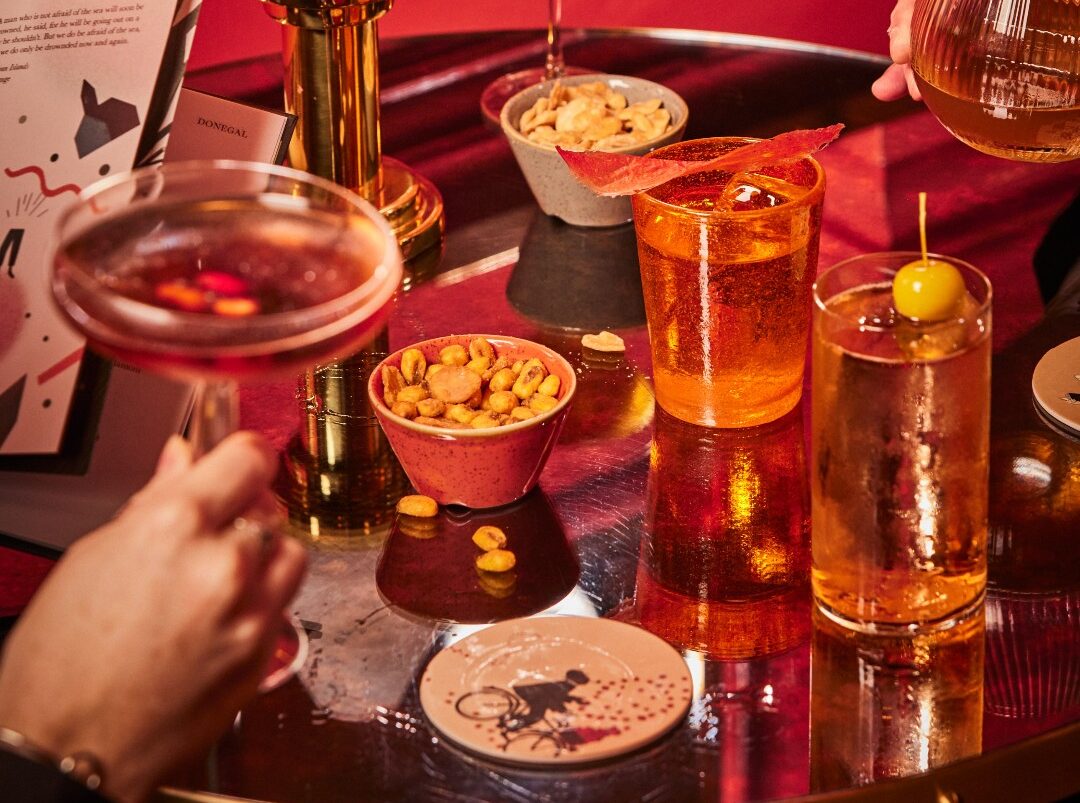 The Lowdown: The Coral Room at The Bloomsbury took inspiration from the Emerald Isle for its new cocktail menu, The Great Irish Tour. The carefully crafted menu is the creation of General Manager, Giovanni Spezziga and transports guests to the land of Saints, Scholars, Poets and Dreamers.
Drink: Signature cocktails on the menu pay homage to fourteen of Ireland's boundless and bountiful counties. From the hoppy malts of Dublin to the floral botanicals of Wicklow, discover passion-filled pours that will 'whiskey' you away to a fabled island of myth, wild beauty and stories. The fourteen cocktails are crafted with the finest spirits from around the globe and range from powerful concoctions such as the 'Tribes' (Ballyhoo Irish Whiskey, Bee pollen, Boatyard Old Tom Gin, Irish Malt Soda) to the flavourful and flowery "Botanica' (Monkey 47 Gin, Chinotto Nero, Lychee & Goji Tea Soda, Meadowsweet Tincture).
Where: 16-22 Great Russell St, London WC1B 3NN